Address
Mall Galleries
The Mall
London
SW1Y 5AH
United Kingdom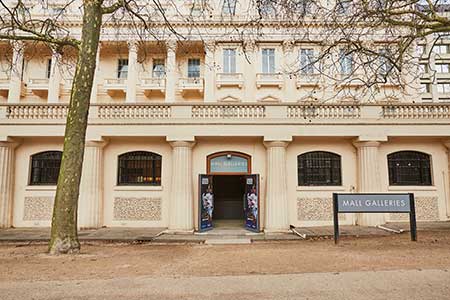 Mall Galleries hosts a diverse programme of exhibitions and events, and is home to the Federation of British Artists.
Each year we host a busy, diverse and exciting programme of exhibitions, including work by emerging as well as well-known established artists. Many of our exhibitions focus on contemporary representational art, each of them offering paintings, sculpture, prints or drawings for sale at affordable prices.
We also play host to many of the UK's leading open art competitions, as well as other temporary exhibitions of contemporary sculpture, photography and the visual arts.
We love to welcome visitors who love contemporary art.
Mall Galleries is operated by the Federation of British Artists, a major visual arts charity established in 1961.  The Federation (FBA) comprises nine of the UK's leading art societies, specialising in oil, portrait, marine, wildlife, watercolour, pastel, printmaking and sculpture.  Each holds their annual exhibition at Mall Galleries.  A unique national resource, the FBA has over 600 practising artists and is home to the largest life drawing society in London (Hesketh Hubbard Art Society).
The Federation receives no on-going public funding and is entirely reliant for its income on sponsorship, subscriptions from Friends and Patrons, Exhibitions and Events and sales commissions.  The work we sell benefits artists and visitors alike; our successful Commissions Service helps people find the ideal artist to commission a special work of art. Mall Galleries also has a popular Bookshop and café.
The charity places great importance on its educational activities.  These involve reaching out to diverse age groups and communities from London and around the UK.