Address
Durlston Castle, Durlston Country Park
Lighthouse Road
Swanage
BH19 2JL
United Kingdom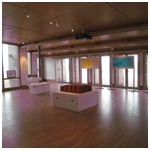 The Fine Foundation Gallery, at Durlston Castle, offers an ever-changing year-round programme of exhibitions and events.
From exhibitions of fine art or contemporary craft, by artists and makers from all over the country, to scientific or historical exhibitions, every month brings something new.
Many exhibitions explore the wildlife, geology and history of Durlston and the Jurassic Coast or showcase the work of artists and makers working locally.
The Gallery is a stunning contemporary space, designed by MJ Long, which boasts spectacular sea views.
With superb acoustics, a concert-hall quality sound system, and high quality projector and screen, the Gallery is also a superb venue for live music, theatre or performance.