Gallery
Address
152-154 Walton Street
London
SW3 2JJ
United Kingdom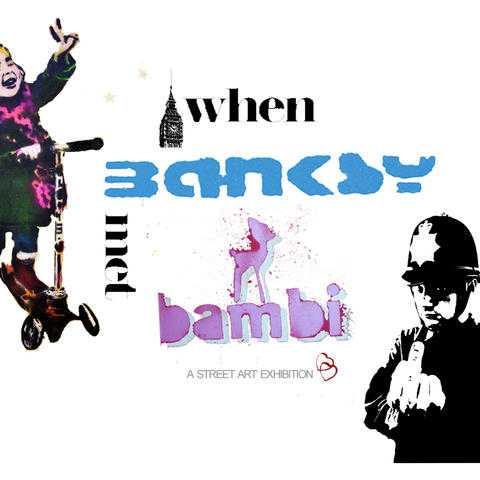 Street artist, political activist, film director, and painter Banksy needs no introduction - he's a true legend and one of the most influential artistic personalities to have ever come out of the UK.
Street Artist Bambi's quotations have been steadily on the rise, and with A-list celebrities collectors such as Brad Pitt, Angelina Jolie, Rihanna, Adele, Robbie Williams and Harry Styles (just to name a few) she seems to be on her way to becoming the next street art big thing. 
Dubbed 'The female Banksy', her graffiti technique is similar to Banksy's, as is her use of popular icons as subject matter for her artworks (from David Beckham to Amy Winehouse, from Usain Bolt to the Pope). Likewise, her identity is kept under wraps.
The aim of this exhibition is to showcase the differences between these two artists, rather than the most obvious similarities and analyze how the same technique could result in a very different approach to the same art genre.
Bambi brings to the table a feminine touch and a taste for all that's colourful, sparkly and glamorous, making her a product of our times when information (and counter information) is easily accessible to anyone with access to the internet. Hence, the role of the artists has dramatically changed since Banksy's times, when Street Art was an effective way to make social commentary and satire in a free way, avoiding the filters and the control of the mass media. Today, anyone can do so just by starting a blog - and this is the real revolution of our times.
Bambi couldn't be more perfect for the modern age: with her harmonious balance of colours and just the right amount of wit, she is a needed injection of love and good feelings to the world in 2013.
This exhibition is a unique opportunity to admire Banksy originals and prints, or to dive into Bambi's world and discover a new phenomenal up and coming artist.