Gallery
Address
A-side B-side Gallery
352 Mare Street
London
E8 1HR
United Kingdom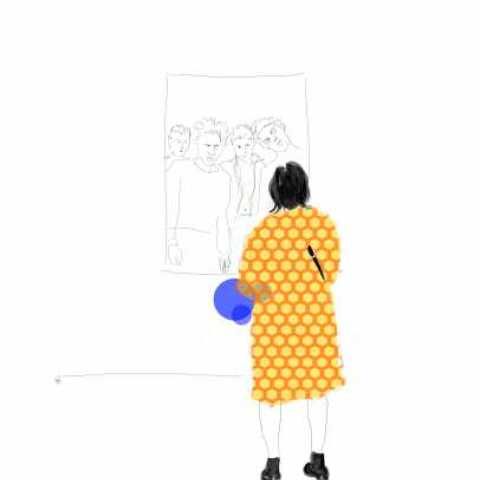 'Taste The People From A Distance'
A solo exhibition by Sara Hurley
Public View: Thursday 4th October 2018 7-9.30pm
Show Dates: 04-10-2018 – 09-10-2018
A-side B-side Gallery is proud to present,'Taste The People From A Distance' by Sara Hurley.

As a new mother Hurley found herself bound by the limits of time and space. As a result of this limitation, she started using her phone as a sketchbook and drawing every chance she had.

Hurley found herself observing people and their interaction with the exhibits and they became her subject matter. Energetic and vibrant digital drawings are created from the observed spectator, where the relationship between the two is formed. She then uses screen-printing and painting to translate the digital drawings into two-dimensional pieces.
 
I like to prowl 
Ordinary places 
And taste the 
People —
From a distance.
I don't want them 
Too near 
Because that's 
When attrition 
Starts.
Charles Bukowski
Sara Hurley, born in Iran, lives and works in Berkshire, England. She studied Bachelor of Painting at Tehran University and Master of Art & Space at Kingston University London. She has been working with drawing, painting and installations.