Gallery
Address
HackelBury Fine Art
4 Launceston Place
London
W8 5RL
United Kingdom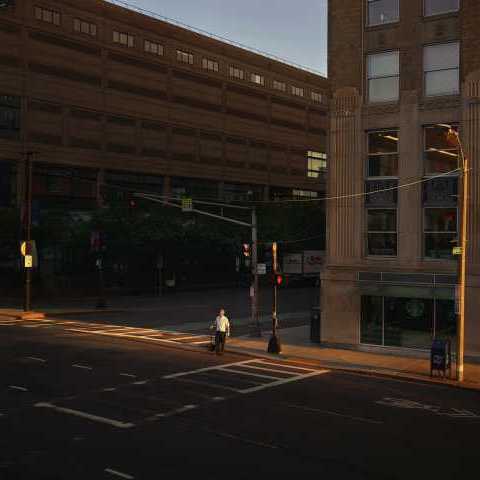 Kellett's largescale photographs contrast the anonymity of urban space with the individuality of human experience. The scale of these photographs captures tangible human expression and allows the viewer to recognise a moment of conscious contemplation in their lives.
Kellett´s journey to find the perfect light sees him walking the streets for days before setting up his large format architectural camera and waiting to capture these intensely private moments. The way the buildings frame his photographs and his focus on the light creates a cinematic quality, providing a dramatic architectural backdrop to these unstaged scenes. An admirer of the great American painter Edward Hopper, who famously reflected American life in silent spaces and melancholic moments, Kellett´s mesmerizing photographs of everyday people waiting at crossroads provide us with a powerful contemporary metaphor.
Kellett´s interrogation into deciphering a series of the same image is influenced by The Dusseldorf School and artists such as Thomas Struth as well as the American landscape photographer Mark Ruwedel. Although he uses the crossroads as a conceptual framework with which to work, these photographs reveal Kellett´s deep interest in the human psyche.
The Cross Road Blues series began in 2016 when Kellett was visiting Los Angeles during the lead-up to the 2016 presidential election and the country was at a political crossroads. The series has continued to evolve over the years as a result of numerous visits to cities across the United States and South America including Atlanta, Boston, Chicago, Los Angeles, Las Vegas, New York, Houston, Phoenix, Seattle, Rio de Janeiro, Sao Paolo and Mexico City. Although the timing of this exhibition just before the 2020 US presidential election may elicit some relevance, Kellett is clear that this series has since taken on a more universal and contemplative meaning – perhaps even existential - about the individual and the direction they choose to take. Inspired by the title of Gauguin´s painting "Where Do We Come From? What Are We? Where Are We Going?" in the Museum of Fine Arts, Boston, this exhibition reflects our contemporary search for an answer.