Gallery
Address
Stories Art Gallery
51-53 South Audley Street
Mayfair
London
W1K 2AA
United Kingdom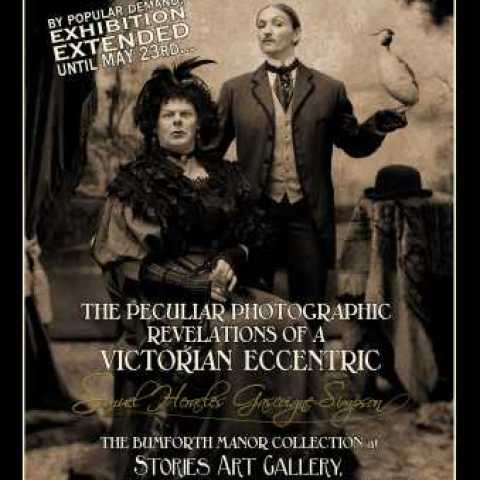 The Peculiar Photographic Revelations of a Victorian Eccentric.
Samuel Heracles Gascoigne-Simpson and The Bumforth Manor Collection at Stories Art Gallery, London.
9th - 23rd May 2019
Stories Art Gallery are delighted to welcome the recently rediscovered and restored photographic work of one the 19th century's strangest characters, Samuel Heracles Gascoigne-Simpson.
From the 1860's up until his death in 1919, the family seat of Bumforth Manor in South Lincolnshire, rural England, was Gascoigne-Simpson's photographic studio and laboratory. 
Friends, relations, servants, aristocrats, farm workers, clergymen, eccentrics, oddballs, dignitaries and degenerates, (sometimes even against their own will), all found themselves clamped into place in his drawing room studio under the unblinking glare of his all seeing photographic 'brass eye'. 
A totally bizarre collection of unconventional & intriguing images, each one with it's own tale to tell of an alternative view of 19th century British life. Sometimes dark, often puzzling, but always under woven with an element of humour which is somewhat at odds with the established notion of the Victorians as austere, prim and prudish. 
We urge you not to miss this opportunity to take in some of the bizarre splendour of a true Victorian eccentric's photographic imagination.
Stories Art Gallery,
51-53 South Audley Street,
Mayfair,
London W1K 2AA
United Kingdom. 
https://www.storiesartgallery.co.uk
Opening hours:
Tuesday to Friday: 11.00 a.m - 6.30 p.m
Saturday: 12.00 p.m - 5.30 p.m
Or by appointment.