Gallery
Address
A-side B-side Gallery
352 Mare Street
London
E8 1HR
United Kingdom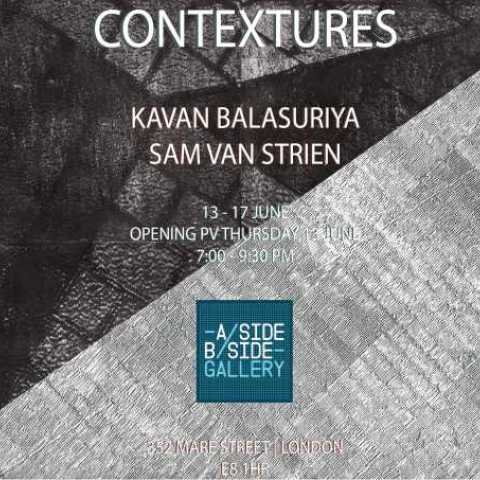 Kavan Balasuriya & Sam van Strien                                                                                                                
Contextures                                                                                                                              
13 - 25 June
Opening Thursday 13 June 7 - 9:30 pm
Contextures, an exhibition featuring recent work by Kavan Balasuriya and Sam van Strien, explores architecture through the practices of drawing and printwork. This collection presents the experiences of the visual artists in regions and cities within the United States, Norway, the United Kingdom, India, Sri Lanka and Myanmar. Their interests have been influenced by the relationship between the tactility, appearance and function of architectural structures within urban and rural settings. Contextures aims to highlight compositional characteristics between an 'international' modern and 'local' vernacular architecture.
The work in this exhibition responds to the fragmentation of architecture encountered in our day-to-day lives, as found in bricklaying, weaving and textiles. Bricklaying techniques share many similarities with weaving and textile practices, possessing minimalist and modern attributes in terms of composition and structure. There are compositions and structures are found across design cultures and histories; what is typical in one part of the world is naturally different in another. These differences are accounted for by traditions tied to times past and anticipated futures. Referring to craft-based and manufactured materials, the artists present a variety of drawing and print techniques. These are expressed in the forms of carvings and rubbings, with tools ranging from handheld charcoal sticks, a drypoint etching needle and an industrial laser cutting machine.
Sam uses rubbings to investigate public and private architecture in our cities, examining spaces like pavements and plazas that we intimately and symbolically share. Rubbings act as textural impressions and records of this architecture. The laser cuttings etched into the surface of the rubbings produce another tactile representation of the pavement's surface. Additionally, in a new series of screen printed works, Sam explores the materiality of marble in our cities and its association with institutions of power and authority. The prints on display were made using images taken from fragments of marble found in Canary Wharf.
Working primarily in monochrome, Kavan uses the drypoint etching needle to create textural effects on mounted aluminium foil, supporting his interest to look at everyday, recyclable materials as a source of production. The artist created a series of works in this fashion based on architectural materials and structures like rattan and wicker. Kavan makes note of their widespread use across the Asian subcontinent. With shared concerns in tropical climates, these materials transcend social class barriers and facilitate exchanges between rural and urban communities through a craftwork economy.
The artists make reference to the communal relationships and experiences that determine private and public spaces. Through depicting the transformative potential of abstract and physical boundaries, they look to continue addressing architecture's omnipresent role in everyday experience.

Kavan Balasuriya is an artist whose work explores connections across South and South-East Asia, regions from which he traces a direct cultural heritage. In order to link these regions he examines iconography found in religion and traditional cultures. Kavan's pictures investigate how the themes of identity and conflict relate to spiritual and physical displacement. The artist is also influenced in terms of form by textile design cultures shared across the Asiatic subcontinent. His research looks into correlations between traditional weaving discourses and socio-political realities. Repeated, modular units have long been a feature of Kavan's work and he continues to research the mythos of craft-practices to deepen this element of his practice.
Kavan Balasuriya (born 1992, Colombo, Sri Lanka) earned a BA in Fine Art from Central Saint Martins College of Art & Design, University of the Arts London, and a Foundation Diploma in Art & Design from the same institution. He has exhibited in India, Sri Lanka, the USA and the United Kingdom. The artist currently lives and works in London, UK.
Sam van Strien is an artist driven by the question of how – and where – we experience architecture. Sam examines how we see, experience and interpret the architecture around us through his work, engaging with these questions through both his direct and mediated experiences. This results in works that use rubbings of architecture, and the photographs and texts that he finds in architects' archives. Through these strategies, Sam articulates the tactile and visual limits of the public experience of buildings that are encountered during everyday urban life, yet largely remain inaccessible and unknown to most city dwellers.
Sam van Strien (born 1992, Delft, the Netherlands) earned a BA in Fine Art from Central Saint Martins College of Art & Design, University of the Arts London, an MFA from Ohio State University, USA, and was an Erasmus student at the National Academy of the Arts Oslo, Norway. He has exhibited in the USA, UK, France and Norway. In 2018 Sam van Strien was shortlisted for the Sainsbury Scholarship in Painting & Sculpture at the British School at Rome and was an artist-in-residence at USF Arts Centre in Norway. Sam van Strien currently lives and works in London, UK, and is a member of Acme Studios.