Address
3-4a Little Portland Street
London
W1W 7JB
United Kingdom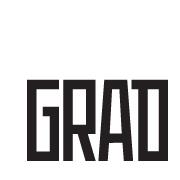 Gallery for Russian Arts and Design:
A non-profit gallery space in Fitzrovia, London W1, established to broaden awareness and understanding of Russian arts and design from the early Twentieth century to the present. GRAD will put on a programme of exhibitions throughout the year.
Building on their exceptionally strong connections within the Russian art world and the academic community, the team behind GRAD wish to give both breadth and depth to this extraordinarily diverse and vibrant body of material.
GRAD Publishing: Further information on the gallery's fascinating content will be provided through GRAD's range of publications. GRAD Publishing will throw new light on the arts of Russia and the Soviet Union, including scholarly catalogues for each exhibition. Its first publication, GRAD 1 - See USSR is published June 7 (RRP £20).
GRAD Education: The programme has a strong historical foundation, with each GRAD event enriched by stimulating and events involving speakers of academic and curatorial eminence in the field. With education lying at the heart of the programme, visitors will leave informed and captivated by this too often neglected body of material.