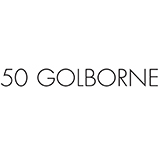 50 Golborne's mission is to investigate the convergence between contemporary art, design and craft. Breaking down the boundaries created by the artificial separation of creative fields, 50 Golborne supports and promotes some of the best creative projects developed by international artists, designers and makers. It especially supports those relevant to portraying and interrogating a world which is changing fast and in which the African continent plays a dynamic and significant role.
Catering for a public of art and design collectors and connoisseurs, 50 Golborne' s mission is also to make its projects visible and accessible to the local community by developing an education programme with a focus on issues of urban life and identity.
The gallery is located on Golborne Road on the northern edge of Notting Hill, London - a vibrant market street within a rich community of mixed economic, cultural and ethnic background.

50 Golborne is within easy distance of Westbourne Park (Hammersmith and City line) and Ladbroke Grove (Hammersmith and City line) underground stations.