Gallery
Address
8 Clarendon Cross
London
W11 4AP
United Kingdom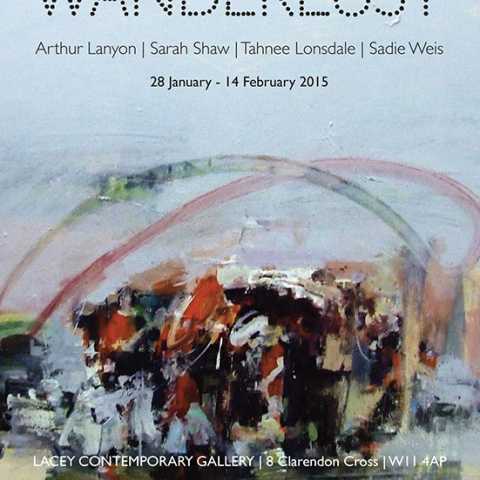 28 January – 14 February 2015
Private View: Wednesday 28 January 6-9pm
Lacey Contemporary is proud to present a collection of new works by artists Arthur Lanyon, Sarah Shaw, Sadie Weis and Tahnee Lonsdale which marks the first in a series of fascinating group shows scheduled for the gallery in 2015.
Inspired by the word Wanderlust, the four artists explore both physical and spiritual journeys. The collection of paintings, sculptures and installation are an invitation to join them on their visual quest.
Wanderlust has captured the imaginations and lives of many, from the groundbreaking female novelist Aphra Behn in the 1600s, to Yuri Gagarin, the astronaut forever known as the man who fell to earth. This desire to embark on a journey whether physical or spiritual is within all of us and the pursuit of the new and unknown can be ignited in an instant and last a lifetime.
Gallery Curator Charlotte explains – The journeys we make everyday without acknowledgement, the search for understanding, the losing ourselves in foreign lands; even the journey the pencil takes across the page shapes, enlightens and inspires us. 
WANDERLUST encases a collection of journeys from four very different artists through exceptional paintings and dynamic installation which embraces this desire.
Each artist works in an approach that reveals just enough to ignite questions, almost acting as an open door to their worlds, and the audience is encouraged to step in. From the vibrant abstracts and intuitive marks of Tahnee Lonsdale to the crystalised styrofoam geode structures of Sadie Weis all delight and provoke thought establishing Lacey Contemporary as a continued centre of excellence for British art.