Gallery
Address
99 Hoxton St
London
N1 6QL
United Kingdom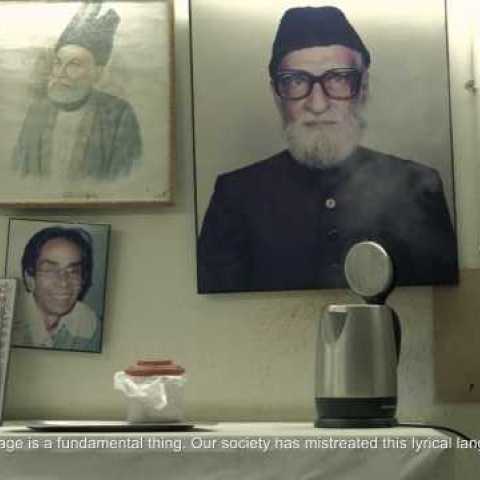 Swirl of Words / Swirl of Worlds
Poetry publication / Exhibition / Programme of events
4 June – 14 August @ PEER and Shoreditch Library, N1, Hoxton, London
Over the summer, PEER and Shoreditch Library will act as the primary locations for an exhibition, event and workshop space that arcs across and intersects visual arts with the written, spoken and printed word. Through a wide range of live and online events and the presentation of artists' works this unique project will explore notions of endangered languages, hidden mother tongues within communities, English as a second or other language, meaning, slippage and humour in sound and the fluidity between art forms and language
The project will have three major strands:
Free book of poetry for Hackney
At the last census, Hackney recorded a total of 88 languages spoken across the borough. This number – probably an underestimate – is amongst the highest of any borough in the country. Stephen Watts has taken this as his starting point to select one poem in its original language and in English translation, to create a kind of poetry map of Hackney. Rather than working to a premeditated criterion for selection, he has adopted the idea of a kind of anti-anthology. Favouring a more organic approach, the choice of one poem may suggest the next, where voices from different languages create new and unexpected associations. The final collection will include writing by well-established names as well as lesser-known and local voices.
The paperback book will be printed in an edition of 3,000 copies, which will be given away for FREE to any Hackney Library member on presentation of their reader's card. It will also become a free online publication available to everyone via PEER's and Hackney Libraries' websites.
This publication coincides with the reopening of libraries and other public spaces. It is hoped that it will provide a positive and celebratory activity around which the local community to come together again.
Swirl of Words / Swirl of Worlds exhibition
Three artists' film installations will be at the centre of a wider group exhibition:
Installed at PEER, Susan Hiller's film The Last Silent Movie (2007) has gathered together recordings of voices of the last speakers of extinct or endangered languages. Subtitles translate their utterances while the screen remains black. Neither silent nor a movie in the conventional sense, this work provides the framework for the audience to reflect on the speakers and the complex social, ideological, political or geographical conditions that may have prompted the loss of their language.

At Shoreditch Library Madiha Aijaz's film These Silences Are All The Words (2018) explores the public libraries of Karachi, Pakistan, against the backdrop of the city's changing landscape. The artist recorded conversations with both librarians and the library's users as they reflect on the shift of language from Urdu and its poetic and literary history to the ambition and individualism associated with English. This remarkable work offers a perspective on a country sharply divided along linguistic lines.

Also at the Library is Zineb Sedira's film Mother Tongue (2002), a video triptych in which the artist questions the relationship between her mother, her daughter and herself. Across generations Arabic, French and English are spoken, and their informal conversational dialogue about childhood memory poignantly addresses the variable elements of language as primary forms of communication.
Works by a range of artists will also be shown including painting, works on paper, audio installation, documentation and mixed media. This will include:
Juan Cruz's recorded durational performance of his simultaneous translation of the whole of Don Quixote, commissioned by PEER in 2005.

Paintings by Andro Semeiko of gestural calligraphic marks that are based in his personal history as a descendant of a celebrated Georgian poet.

An archive recording of Kurt Schwitters' son reciting his sound poem Ursonate, accompanied by a video of the full text.

A large scale wall drawing by Effie Paleologou of a deconstructed blackbirds nest, which takes the form of an arcane script.

Danh Vō's Last letter of Saint Théophane Vénard to his father before he was decapitated, copied by the artists' father Phung Vō.

Two video works by John Smith; Steve Hates Fish (2015), a smartphone film which deliberately confuses a language translator app by telling it to translate English signage from French into English; and White Hole (2014), in which Smith reflects on his visits to communists countries and the idealisation of opposing politics.

Two video works by Sally O'Reilly; in All the Knowledge in Age UK (2016), the narrator takes us on the imagined journey of a newly coined word as it travels through various stages in order to officially enter the language; and How to Rewild your Writing (2020) takes it cue from instructional videos to provide tips on how to reinvigorate one's prose skills.

Paintings and works on paper by Fabian Peake who fuses his two practices of being an artists and a poet.

Works by Pete Smith from the series Yellow Poems, collaged from National Geographic magazines.

The Polari Bible, a polari version of the King James Bible translated by the Manchester (UK) house of The Sisters of Perpetual Indulgence.

Live and online programme of events
A varied calendar of events across the ten weeks of the project will be programmed to inspire and welcome a range of local and London-wide audiences to attend or participate in different activities. Events will take place at PEER, Shoreditch Library and other nearby Hoxton venues.
Additionally, a programme of digital events will take place including, Zoom webinars, Live Youtube broadcasts, pre-recorded content and more. Live events will be recorded and made available online to provide wider access to the project to audiences locally, nationally and globally.

Further Project Information

Swirl of Words / Swirl of Worlds is a multi-platform and multi-media arts programme that both expansively and intimately explores how language shapes and informs cultural and individual identities. It is the final part of PEER in the Library an ambitious three-part programme in partnership with Shoreditch Library for which artists and artist collectives have created and presented work focusing on the power and potential of the spoken and written word.

The project takes as its starting point A Bibliography of Modern Poetry In English Translation, an ambitious research and publishing project by poet and translator Stephen Watts. Since the early 1990s, he has developed a database (un-digitised) of poetry from more than 250 languages that is available in book form in English translation. At its core, this rich resource pays tribute to those countless singular voices from across the globe whose knowledge and experience of their cultures and societies make vital contributions to an understanding our ourselves and the universal impulse to communicate with others.
Watts is a poet, editor and translator, with family roots in the Italian Alps. He has lived in Whitechapel since the mid 1970s. He twice won second prize in the National Poetry Competition (1983 and 1992). He has worked extensively as a poet in schools, hospitals and community groups in East and North London, often with a focus on social issues. He has read his own work internationally, including in in Sibiu, Bucharest, Milan, Ravenna and Syria. His poetry has also been translated into Arabic, Persian, Czech, Bengali, Finnish, Slovenian, and other languages.