Gallery
Address
12 Bury Street
St. James's
London
SW1Y 6AB
United Kingdom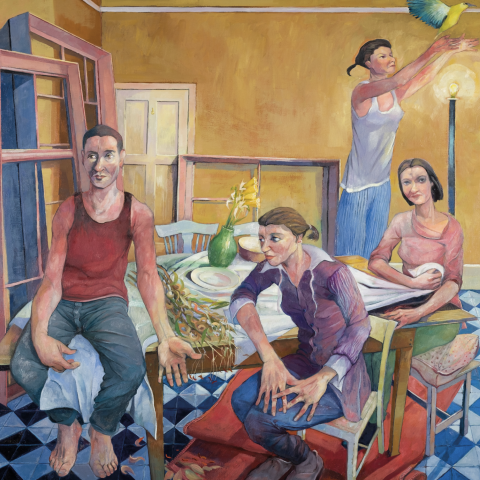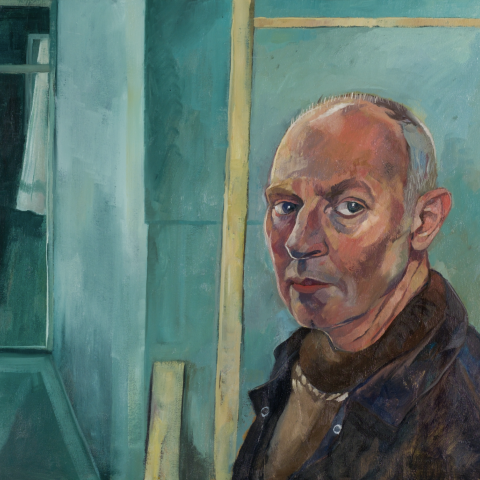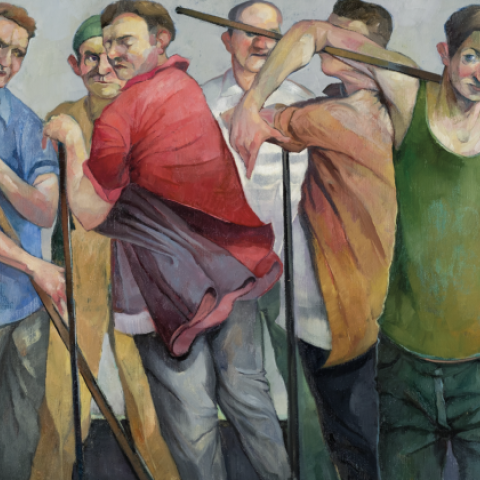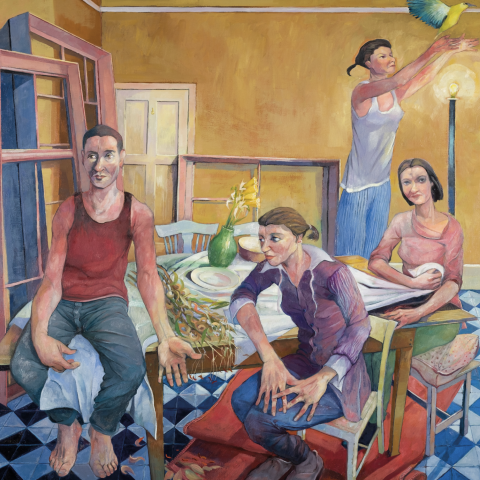 David Messum Fine Art are delighted to be staging an exhibition of paintings by Liverpool based artist, Steve Des Landes, to be held at our gallery at 12 Bury Street, St. James's.

The exhibition, which will take place from 6th – 29th July 2022, is the second to be held by David Messum and will present new works which continue to demonstrate the artist to be one of the most accomplished social-realist painters working in Britain today.

Steve des Landes' strength as an painter lies in his natural drive to represent the reality of authentic, human struggle: of lived experience and shared emotion. He does so by mining his subconscious for the characters and objects that populate his pictures in this pursuit to 'paint the human soul'. In this sense, he is an artist of dichotomies. His paintings illustrate both real and imagined subjects: past places, found objects, faces taken from strangers on the street and stored away for later refabrication in familiar or unfamiliar settings. The men in paintings such as Flatland Potato Engineers, are characters that could be easily transplanted from any pub, pool hall or social club in the Wirral. They stand with a sense of camaraderie, but their disassociated body language suggests that they're almost strangers to each other.

Many of these scenarios may at first appear easy to translate, but it is the symbolic reading of his pictures which makes them intentionally ambiguous in their themes. The Golden Oriole demonstrates how Steve des Landes' paintings are both universal and timeless in their storytelling, without forcing a narrative. Conceived during the global pandemic, we see a group of people, perhaps a family, enduring lockdown together. The Oriole, perhaps symbolic of the character's need to escape the windowless room, or demonstrating the love lost between the characters that refuse to look each other in the eye?
Des Landes spent two decades working from his bohemian studio in the now legendary Holmes Building: a cavernous brownstone warehouse which formerly served the city's industrial past, and was later central to Liverpool's community of artists and musicians in the 1980s and 90s, becoming home to post-punk and soft rock bands including Echo & the Bunnymen, The Farm, and The Christians.

Des Landes's formative years were spent in the adjacent studios, where he became an integral element of the unofficial municipality that grew there. This heavily urban, post-industrial location was antithetical to the bucolic setting of his childhood, in the countryside which extended from the city of Liverpool in the south to Preston, the town of his birth, in the north. The West Lancashire Coastal Plain is a Tolkienesque landscape which was to be a romantic revelation to des Landes. His pictures hold a particular reference to the area around Plex Moss where he grew up in the 1960s and 70s. The distinctive pattern of rectangular fields that made up the flatlands, punctuated by a crosshatch of raised roadways and deep drainage ditches are familiar to his paintings. Here, enfolded by this distinctive tapestry of nature, des Landes developed an intense and passionate involvement with the land of his origin which he still embraces in his art today.

The landscape and the theatre of these paintings evoke a nostalgia, rooted somewhere in a lost industrial history or some far off but familiar hinterland, yet they express very present, very raw realities of contemporary life. Pieta, one of his most ambitious pictures, represents the artist's underlying fears and concerns for humanity. This powerful painting represents the lived experience of the displaced, frustrated and often aimless young men found within the urban environment. Des Landes' use of both human characters and the landscape as a form of identity – as extensions of each other – belies his traditional training, and highlights the relationship of regional identities, class and gender that are intrinsic to his practice and are at the heart of this exhibition.