Gallery
Address
Queens Crescent
London
NW5 4EZ
United Kingdom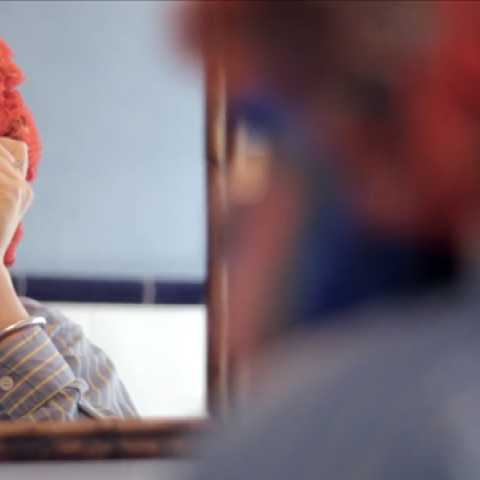 Enter the Second Self Salon and meet Bella Lordwarf, historian of fictional worlds by day and front-woman of disco power girl band by night. Here all alter-egos, avatars and ghost writers are welcome to gather, discuss, add their texts to the archive of fictional artists or join Bella for a cup of tea and a chat. On the closing night of the Salon, Bella will host the inaugural Lonely Avatars' Club.
Held on the site of the former tanning salon TAN LIKE THAT on Cheriton estate in the heart of Gospel Oak, Bella Lordwarf's Second Self Salon draws on the tradition of the salon commonly associated with French literary and philosophical movements of the 17th and 18th centuries; a gathering of people under the roof on an inspiring host, held partly to amuse one another and partly to increase the knowledge of the participants through conversation.
Bella is the alter ego of artist Flora Bradwell. She is one of Flora's paintings brought to life. A bulbous and distorted mask is all that separates the artist from her projected and fictional other-self.
Through a series of self-portraits Bella has been establishing The Cult of Bella. Is she intent on obliterating her creator or is this a thinly disguised act of vanity by the artist? Bella has recently invited curator Lily Hall to collaborate and contribute to her growing archive of avatars and alter egos.
***
Bella Lordwarf's music video BOZO recently premiered at Folkestone Triennial. In 2013 she presented her research around the history of the fictional Cluen family at The Cluen Dynasty Museum at Jacksons Lane. Bella also performed at Freshly Scratched at Battersea Arts Centre in 2011. Her second single I am Bella Hear Me Roar is currently in production and due to be released in Spring 2015.
EVENTS
Opening: Tuesday 10th February, 7-9pm 
Tea with Bella at the Salon: Wednesday 11th, Thursday 12th and Saturday 14th February, 4-6pm
Lonely Avatars' Club: Saturday 14th February, 6-8pm
Second Self Salon
25 Cheriton, Queens Crescent, Gospel Oak, NW5 4EZ
Underground: Chalk Farm, Belsize Park
Overground: Kentish Town West, Gospel Oak
Bus: 24, 46, 168