Gallery
Address
83 Low Petergate
York
YO1 7HY
United Kingdom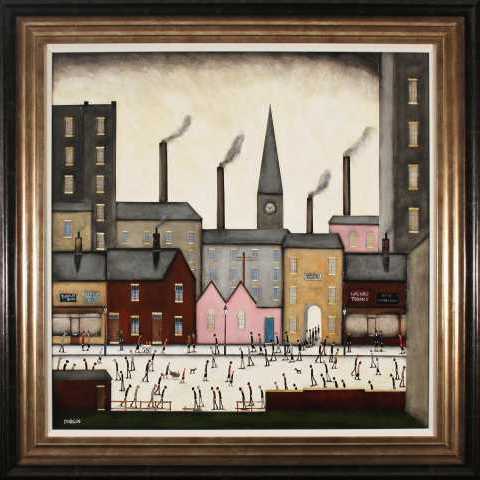 York Fine Arts is very pleased to present 'Sean Durkin: Art for All!', its first ever solo exhibition of original paintings by contemporary British artist Sean Durkin. Steeped in the grit and humour of England's industrial past and the proud working people who raised its foundations, Sean's paintings brim with stories too often untold. Shining a light on people and places frequently overlooked, this exclusive collection of work proudly declares and asserts the egalitarian nature of fine art, justly placing its myriad pleasures back into the hands of all.
Filled with entwining narratives and playful feats of irony, Sean's paintings are comical yet grounded in the realities of industrial life. Seas of 'matchstick people' trudge through worlds of imposing, brutalist shapes while mischief-making characters and their foils bring a light-hearted nature to an otherwise forbidding and minimally coloured world. In combining these subtle contrasts and striking compositions, Sean coaxes viewers to look closer and to contemplate the lives of the people held within.
Sean's work echoes the now infamous tale of how as a small boy, he once came face to face with a stolen L.S Lowry painting on his very own mantlepiece. Taken by his father from the local gallery the night before, the painting was held ransom in the family home with a letter of conditions for its safe return. Among a host of light-hearted stipulations, including the installation of a better gallery alarm system and the raffling of the Lord Mayor's underpants for charity, Sean's father demanded that the art gallery open on a Sunday, so that the working man had leisure to visit. It may have been a sensational stunt, but the message, like that of Sean's work, was clear: Art is for all.
As an artist whose work so powerfully celebrates community and collective memory, it is no coincidence that the exhibition closes with the crescendo of the Queen's Platinum Jubilee celebrations. In honour of this momentous occasion, York Fine Arts has specially commissioned a large centrepiece for the show to be unveiled on the Jubilee weekend. Gallery Director Philip Short says, "Sean masterfully resurrects and celebrates tales of British heritage with wit, warmth and a generous sense of community pride. Given the style and spirit of his work, I can truly think of no better painter to mark such an exciting milestone in modern British history."
From the earliest days of his career, Sean Durkin has captivated the art world with his atmospheric scenes of working life and intriguing character portraits. Having gained a loyal and ever-growing following, his work has become some of the most popular and sought-after contemporary art collected in the UK today, highly prized by his collectors. With paintings now hanging in public and private collections across the country, it is with delicious irony that Sean's work is now displayed in the prestigious Middlesbrough Institute of Modern Art, next to the very L.S. Lowry painting his father stole all those years ago.
The exhibition opens at York Fine Arts on Friday, 20th of May and runs until Sunday, 5th of June. Due to an expected high volume of interest, we recommend an early viewing to avoid disappointment. Preview catalogues will also be available upon request.