Gallery
Address
43 Inverness Street
London
NW1 7HB
United Kingdom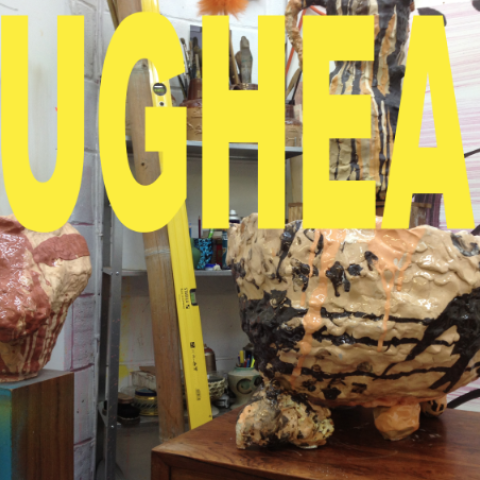 15 November - 14 December 2013
Jughead
Private View: 14 November 2013 6 -9 pm
43 Inverness Street is pleased to present a solo exhibition by Robert Rush.
Paintings are hung on the ground floor: figurative, still lives, or peopled with swervy bio- discombobulated-morphic characters. They're called Best Friend, Tyrant, or simply, Bum. In fact, all the titles are simple. Other paintings are called Still Life (trippy) and Painting. These oil paintings are done with attention to speed. They're not done particularly fast, but rather speed is a component — the speed of the brush and the speed of thinking. Colours are mostly muted, but an occasional flush of a stovetop element-red or magenta pink lends potency to dry surfaces. In the still lifes, objects only exist as outlines; priority is given to the tension of the canvas, the viscosity of the paint, the effect of gravity on a drying medium, lightly playing with effortlessness and over determined beauty. The colours are subtle and sit thin upon the surface. Rush's work has a beefy, laconic attractiveness.
Speaking of work, upstairs on the first floor, an installation of ceramics with musical accompaniment puts a groove on recent objects and context of the artist's labour. Anthropomorphic ceramic objects of the Jug /Mug Series, spin upon specially constructed plinths. Rush's playlist fills the room. Related ceramic flat works hang on the walls. Jug-like objects made with plops and pokes and pinches, oozing with earthy glazes rotate mechanically to the soundtrack. In any case, the ceramic pieces are fit to sit or spin, depending on the mood of the music, which in this case, remains upbeat.
Whether the material is clay or oil paint, the subject of Robert Rush's work is manipulated within a practised economy of process. What arises from these washes and wisps and globs is the tip of an iceberg. Here, the impossible mix of speed and elegance betray the hidden power of practice, repetition and craft. These objects carry a convincing recipe of thick and thin, organised in proportions which speak to a history of formalism. Plainly said, they are about seeing. He invites us to see.
Robert Rush (born 1978) studied at Central St Martins and the Royal Academy Schools (1999-2006). He has been in numerous group and solo shows including the Bloomberg New Contemporaries, the John Moores 25 at the Walker Art Gallery, Liverpool and the Jerwood Contemporary Painters. Robert Rush lives and works in London.
43 Inverness Street is an art gallery within a private home. It is conceived as an accessible, intimate space to present challenging exhibitions of contemporary art.