Gallery
Address
King's Road
London
SW3 4SQ
United Kingdom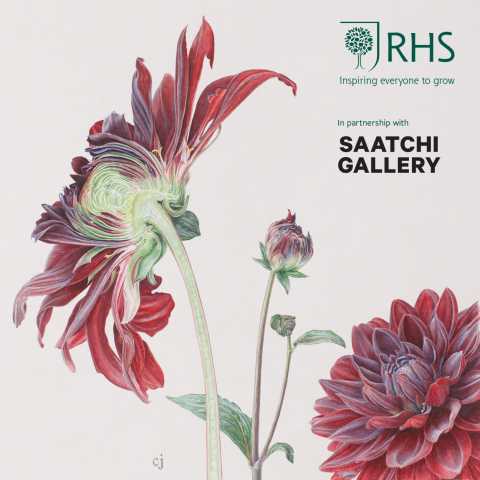 The Royal Horticultural Society (RHS) and Saatchi Gallery have partnered to present the return of the RHS Botanical Art and Photography Show in 2021. The show features more than 200 of the best botanical artwork and garden photography by 34 global artists all competing for a RHS Medal.
The 2021 show includes an array of intricate and scientifically accurate botanical illustrations by 15 artists and portfolio collections from 19 photographers that will all compete for an RHS Medal – Gold, Silver Gilt, Silver or Bronze.
The RHS Botanical Art & Photography Show 2021 will be the first presented at the Gallery in London, and will run for two weeks, enabling artists and photographers to showcase their work to an even wider audience. Accompanying the show will be a series of outreach projects for school and community groups including painting, drawing and print workshops intended to inspire a passion for botanical art and research.
Admission to this ticketed show is free for Saatchi Gallery Members and RHS Members.
The show compliments the RHS Lindley Collections of more than 30,000 botanical paintings stretching back to the 1630s and heritage photographic images of gardens and gardening people starting in the 1860s. The botanical art collection continues to grow with the regular addition of Gold medal standard pieces. Botanical art and photography help evidence trends and discoveries of plants popular in UK gardens today with piece available to view throughout the year by appointment with the RHS.
A panel of recognised experts, including leading botanical artists, photographers, teachers, and botanists, judge the exhibits on display, assessing their accuracy, skill, and aesthetic appeal.
The RHS Botanical Art 2021 judging panel secretary is Charlotte Brooks, Art Curator at RHS Lindley Library and the RHS Photographic Competition judging panel secretary Sian Tyrrell, Head of Horticultural Information.
For more information about the RHS Botanical Art & Photography Show visit: www.rhs.org.uk/shows-events/rhs-london-shows/rhs-botanical-art-and-photography-show
Riverstone, delivering exceptional London living for people over 65, is proud to support the 2021 RHS Botanical Art & Photography Show in partnership with Saatchi Gallery.