Gallery
Address
Coachwerks
19a Hollingdean Terrace
Brighton
BN1 7HB
United Kingdom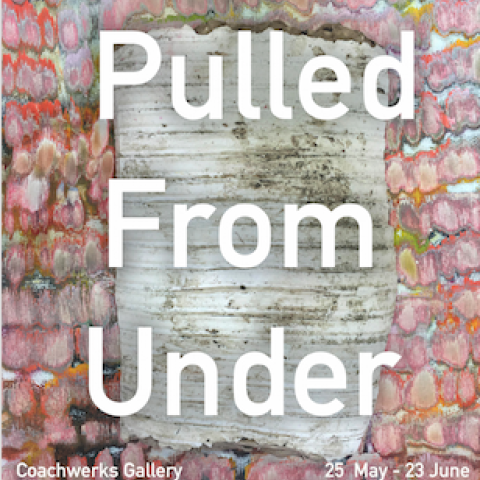 Pulled From Under brings together the recent works of Abigail Brothers and Callum Farrell. Both artists' approach to making is one of absorption and reconstruction. Through transient encounters with the overlooked, these artists reconfigure fragments of the prosaic within the space of painting and sculpture. By patchworking the deconstructed back together new hybrids are formed where information is merged, grown and lost. 
Abigail Brothers' playful configuration of drawing and sculpture lies between the boards of figuration and abstraction as well as painting and sculpture. Her anthropomorphic forms seem to obtain human bodily forms and act within the spaces given to them to perform in. With this familiarity to shape and the embedded associations of the materials used, her works often look foreign yet abnormally native. A recent body of work has stemmed from this notion of 'not fitting', whether it is an image stretched over the perimeters of the frame or a bulging sculpture bursting out of a vessel.
The language of the immediate landscape and the negotiation between its visual metaphors is what informs Callum Farrell's practice. This negotiation requires noticing the banal aesthetics of an urban landscape in the hope of understanding its hidden history and memory. Through painting, layers of this extracted language are applied as Farrell, cuts, pastes and destroys each encounter with the urban landscape into the space of the canvas. The viewer is in turn forced to puzzle the origins of the removed data in order to make sense of its construct. There exists within Farrell's painting some desperate attempt to preserve a nostalgic sense of what once was. Although paradoxically to the violent actions performed in creating the paintings, a tranquil harmony seems to flow within the tonal intricacies of the destructed surface.
Abigail Brothers (B.1994)
Abigail Brothers graduated from Goldsmiths Fine Art with a First Class Honours, B.A. Fine Art in 2016. Previous exhibitions include Boat Trip, Verda Boat House, 2016 (Sussex), Wibbly Wobbly. 42 Lewisham Way 2016 (London), Carapace. Hochschule für bildende Künste, Hamburg, 2016 (Germany) and Slippers. Safe House 1, 2015 (London).  She was also selected to be part of the Goldsmiths exchange at the Hochschule Für Bildende Künste. Hamburg, Germany. February 2016. In 2014 Abigail Brothers had two photographs exhibited in the Tate Britain, London in the Street Photography: Source Spotlight Display.
Callum Farrell (B.1994)
Callum Farrell graduated from Camberwell College of Art (UAL) with a First Class Honours, B.A. Fine Art Painting in 2016. Previous exhibitions include Boat Trip, Verda Boat House, 2016 (Sussex), Slippers, Seen Fifteen Gallery, 2015 (London), One Potato, Two, Arch Collective, 2015 (London), UNIT, CGP Gallery, 2014 (London). His works also features in a number of private collections worldwide.
http://www.callumfarrell.co.uk/