Gallery
Address
158 New Cavendish Street
London
W1W 6YW
United Kingdom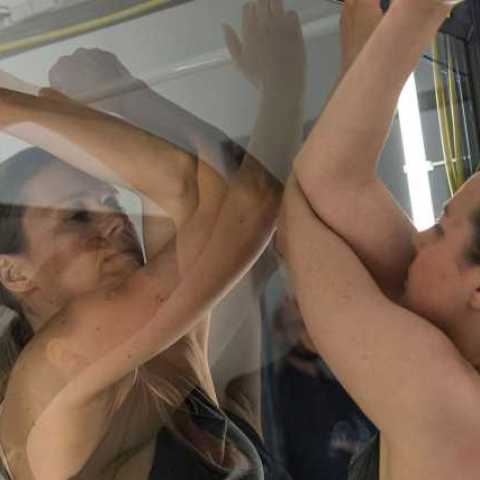 Saturday 15th July:â €
2pm, 4pm, 6pmâ €
'(Un)touched' by Nathaniel Rackowe and choreographer Angela Woodhouse featuring Trinity Laban graduates Stine Nilsen and Martina Conti. Final performances presented at FOLD Gallery for the closing day of Rackowe's exhibition THRESHOLD.

Un(touched) explores intimacy and separation as simultaneous events. The audience are invited to inhabit two separate but related sculptures. Our question is how can division allow for intimate encounters?

Saturday 15th July
Performance times: 2pm, 4pm, 6pm

RSVP [email protected]
-
Angela Woodhouse has developed many innovative dance performance and installation works, Her work is interdisciplinary and collaborative in focus. Intrinsic to Angela's practice has been the experience of extended time and the potency of intimacy between viewers and performers. Angela trained in Dance and Visual Art and has an MA (dist) from University of Surrey. She was awarded the Lisa Ullmann Scholarship to study in New York with Alwin Nicholais. Her work has toured to Europe, The Middle East and New Zealand.
Selected works ( with long-term collaborator Caroline Broadhead) include Court (2003-6); Threshold (2004) commissioned by The Place Prize; Sighted (2009) commissioned by Royal Opera House 'Deloitte Ignite' Festival and The Place Theatre (shown at Sadler's Well's 'Sampled' in 2011 and more recently at The Saatchi Gallery as part of 'Collect' in 2015); Censored (2010) commissioned by Woking Dance Festival in collaboration with Tate Artist Rooms - Jenny Holzer; Between (2011) commissioned by Trinity Laban and touring nationally including Yorkshire Sculpture Park. Angela's most recent installation is Close Distance (2017) made for the historic Wollaton Hall in collaboration with artists Caroline Broadhead and Nic Sandiland and commissioned by Nottingham Museums. (Un)touched is Angela's first collaboration with Nathaniel Rackowe.
Nathaniel Rackowe is based in London, and creates exhibitions and installations in the UK and internationally that combine artificial light and structure in works that animate architectural spaces. Nathaniel Rackowe had a major solo exhibition at One Canada Square in Canary Wharf in January 2016, followed by exhibiting his large scale sculpture, Black Shed Expanded, at Parasol Unit Foundation for Contemporary Art in late 2016. Platonic Spin, an outdoor temporary public sculpture, was part of Lumiere London in January 2016. Notable projects and solo exhibitions include: City Signs, Jerome Pauchant Gallery, Paris (2017), MD3, Bangkok Art and Cultural Centre (2014), The Consequence of Light, Bodson Gallery, Brussels (2014), Dynamo. A century of light and movement in art 1913-2013, Grand Palais, Paris (2013), public sculpture Black Cube at Den Frie Art Institution, Copenhagen
(2013), Black Beacon, Calvin Klein, New York (2011), BISCHOFF/WEISS, London (2011, 2007), Delfina Foundation, London (2010), Galerie Almine Rech, Paris (2008).
Martina Conti is a dancer and performance artist. She trained at Trinity Laban and is a graduate of the Performance Design and Practice MA at Central Saint Martins. She has featured in several of Angela Woodhouse's works since 2006. Martina has also performed for Silvia Costa, Barokthegreat, Raffaello Sanzio, Firenza Guidi, Olivier de Sagazan, and Georg Bütow among others. She has also assisted director Pete Brooks for Tosca at Teatro delle Muse (Ancona). Martina's performance work is supported by Little Constellation and has been presented at Viafarini (Milan), Gibraltar, Atelierhaus Salzamt (Linz), Biennial of Young Artists of Europe (Skopje), Santarcangelo Festival, Museum of Contemporary Art Villa Croce (Genoa), Bonington Gallery, Lakeside (Nottingham), Mediterranea 16. She recently presented her work If There Is An Ocean It Is Here at Teatro Petrella (Longiano, Italy). She lives and works in London.
Stine Nilsen was born in Norway and moved to London to train at Trinity Laban Conservatoire of Music and Dance. After completing her BA she worked with choreographers Angela Woodhouse, Jeremy James and Emilyn Claid before joining Candoco Dance Company in 2000. She has been Artistic Co-Director of the Company 2007-2017, and is moving to Norway this Autumn to take over as Artistic Director of Coda Oslo International Dance Festival. Nilsen has worked with Angela Woodhouse on a number of projects since 2000, most recently the installation Between (2011-13).
Please contact FOLD for more information: [email protected]