Gallery
Address
21 Cork St
London
W1S 3LZ
United Kingdom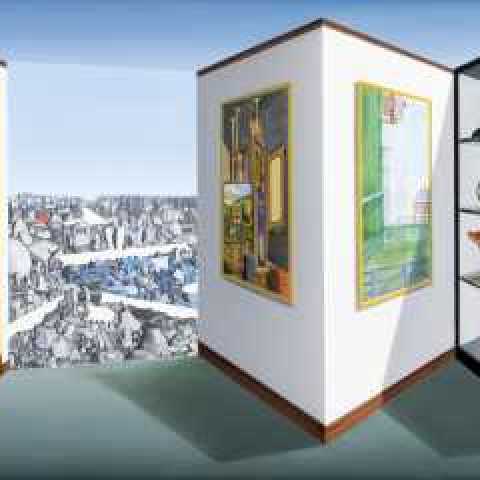 Patrick Hughes has achieved recognition around the world for his lifelong exploration of perspective and visual paradox. An acclaimed British Pop Artist, closely aligned with British Surrealism in the 1950s and 60s, Hughes is also renowned for his impact on scientific discoveries in the field of three- dimensional visual perception. In an upcoming exhibition at Flowers Gallery Cork Street, Hughes presents new sculptural paintings, completed this year, which explore an increasingly complex spatial and pictorial imagery.
Ever since the creation of his first 'reverse perspective', the Sticking Out Room, more than fifty years ago, Hughes has continued to confound viewers with his three-dimensional paintings, which appear to move together with the lateral movements of the viewer. The foundations for this discovery were set in 1963, when he made a sculpture of railway lines in perspective coming to an abrupt vanishing point. Looking at the piece from the 'wrong' end gave Hughes the idea to elaborate on this idea by making a room in reverse perspective, imagining the vanishing points at the position from which the work would be viewed.
The genesis for Hughes' fascination with the concept of spatial reversal and visual paradox can also be traced to his childhood during the Second World War. At his family home in the town of Crewe, the safest place to hide from the German bombs was in the cupboard under the stairs, where Hughes spent many hours looking up at the uncovered stairs from underneath, the wrong way around.
In reverspective, Hughes has developed myriad shapes and pictorial motifs, creating mazes, arcades, libraries, galleries, boxes, cameras, doors, and images of the city of Venice. In this exhibition, a new view of Venice can be seen in Riflesso Di Venezia; while views of the interiors of art galleries include Eye-Catching, in which well-known works of art are painted in perspective within a double-fronted trapezoidal construction, with one flat frontal plane alongside another converging at a sharp point.
Magritte and Me is a large construction within a continuously diminishing forced-perspective trapezoid shape, comprising wryly repeated depictions of Hughes' own 1976 painting Déjà Vu, in which the view in the rear view mirror is seemingly identical to that of the road ahead, alongside repeated images of a Magritte painting of an eye reflecting a clouded blue sky. Viewed from left to right, the image is perceived as fluctuating between two conflicting vanishing points, drawing attention to the complex nature of 'what we see'.
The exhibition coincides with the launch of Patrick Hughes: A Newer Perspective, the second edition of the sold-out monograph A New Perspective. This comprehensive 240 page publication features colour illustrations of artworks from 2000, with 50 plates that have been added since 2014. The book includes essays by art historians Dawn Ades and Martin Kemp, scientist Thomas Papathomas, Matthew Flowers, an interview between Patrick Hughes and critic Murray McDonald, and a new essay by Patrick Hughes.
A new multiple edition three-dimensional print will be launched to coincide with the exhibition, titled Surreal, produced in an edition of 50.