Gallery
Address
32 Rivingston Street
London
EC2A 3LX
United Kingdom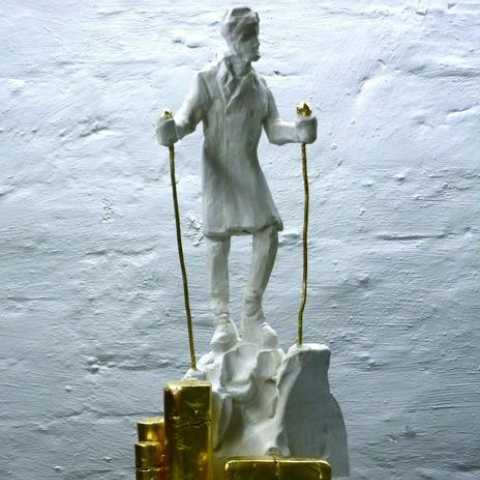 Cock 'n' Bull Gallery is proud to present an exhibition of new work by London based sculptor Neil Hedger.
Working with traditional polished plaster finished with gold leaf, Hedger re-imagines adverts sourced from lifestyle magazines and transforms them into 3 dimensions. The figures he uses to model these luxury goods are however, no longer the stereotype supermodels and celebrities found on billboards. Hedger's models resemble ancient classical fragments and the characters you might find in a Parisian salon, busts of handsome men, cherubs and stoic heroes who he then adorns with modern designer accessories such as handbags, sunglasses and perfume bottles. The result is sculptural figures that appear on one hand frivolous and decorative while being disquieting and bizarre on the other.
Hedger strips away advertising shorthand, debasing consumerist illusion and presenting recognisable, extravagant objects for what they truly are - luxury goods. By using gold leaf and not solid gold, Hedger highlights the point that designer goods only offer a surface - that consumers are buying the brand, not the lifestyle its advertising alludes to.
Hermes is modelled on a Hermes menswear advert that dipicts the classic idea of a heroic male in sportswear. In his sculpture the figure - portrayed in a neo-romantic style is placed not only on a mountain top but hiking above a selection of men's accessories.
Life's Little Moments presents a mother riding a carousel with her small child- her hairstyle kept intact thanks to products. In Hedger's sculpture her child becomes a cherub, here Hedger contrasts the notion of a contemporary female preoccupation with beauty with classical ideals.
Hedger graduated from Goldsmiths MA in 2008, since then his work has been included in group shows at Andrea Rosen New York and has been selected for Saatchi Art's Spring Fever collection. MMXIV DEVORABIT will be Hedger's third solo show in London.