Gallery
Address
Hoxton Gallery
17 Marlow Workshops
Arnold Circus, Shoreditch
E2 7JN
United Kingdom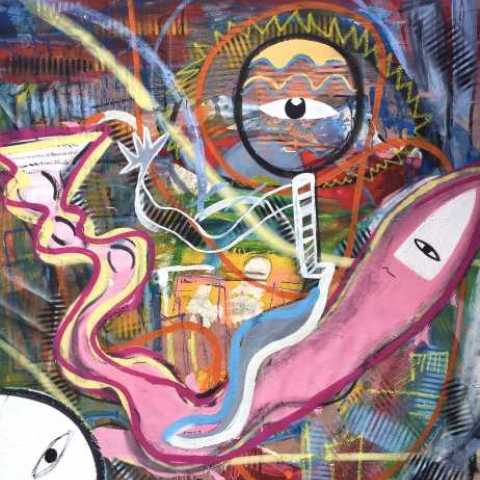 DEBUT EXHIBITION BY WAFA LOVE REVEALS EXUBERANCE, SPONTANEITY, AND VITALITY OF LIFE LIVED IN CREATIVE COMMUNITY
My Endless Stories | Wafa Love
28 May – 13 June 2021
Hoxton Gallery
MY ENDLESS STORIES explodes Wafa Love (b. 1985, Tunisia) onto the art scene with all the radiant energy of the dance club community that offered a laboratory for her artistic talent. Wafa's work is about making people feel good about themselves: vibrant splashes of colour from the distant Tunisian climate, glorious riots of sunshine and heart-warming shades reimagined from the after-party glow.
Wafa Love rose to notoriety in London's lesser-known East End venues and warehouses, dancing on the speaker at the frontline of a frenzied creative community, alienated from the mainstream trenches. This close-knit family provided a safe (cramped, sweaty) space for the next generation of disruptor upstarts to embrace the abstract spirit of deconstruction, and bond with the beauty of a truly inclusive underground subculture rarely seen in the digital age. No elite 'inner circle', no hype, no bond with fashion and unaffected by social media, this exuberant cultural community was wiped out during Covid due to lack of opportunities; the club was the social network.
Incorporating elements of her Phoenician heritage, MY ENDLESS STORIES is an openhearted celebration of lingering memories, a powerfully uplifting riot of colour, form, and symbol that ultimately pulses with the rhythm of fearless love by an artist taking flight.
About Wafa Love
Never one to hide, Wafa Love is a rising star overflowing with inner fabulousness. Arriving from Tunisia in 2008, she made her home in the underground floors of East London warehouse parties - abstract spirit of cramped sweaty spaces by night, beautician by day.
Growing up she was not encouraged to pursue an artist's life, however she could never shake her tendencies for dance, love and music. It was on the dance floor that she truly released her creative spirit, encouraging her into new forms of expression such as photography and painting. She first picked up a brush in 2013, and this will be her debut exhibition.
A specially commissioned mural by Wafa Love is now up in Shoreditch.
Instagram: @wafalovesway | Soundcloud: Q-Love
About Hoxton Gallery
HG has a reputation for emerging artist exhibitions and events in the art, music and fashion industries.
From basement beginnings on Hoxton Street 2009, the gallery has recently moved to a permanent new home, a Brutalist styled bunker, on the Boundary Estate in Shoreditch.
W: https://www.hoxtongallery.co.uk/ I: @hoxtongallery
Visitor Information
To book an appointment, contact: Kevin Martin | [email protected]
Hoxton Gallery
17 Marlow Workshops
Arnold Circus, Shoreditch,
London E2 7JN
Nearest London Overground Stations: Shoreditch High Street, Hoxton, Old Street Underground.