Gallery
Address
Kupfer
Unit 5, 31a Chatham Place
London
E9 6FJ
United Kingdom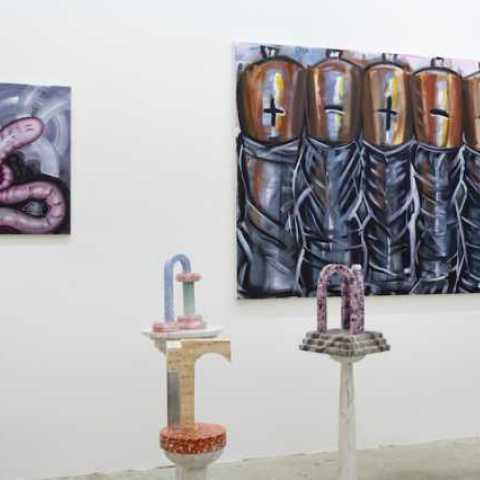 Kupfer is pleased to present the exhibition Muscle Beach, featuring London-based artists Ana Kazaroff and Hannah Bays. The show, which brings together a series of sculptures and furniture by Kazaroff and paintings by Bays, explores how inanimate objects tell stories of human desire.
The multiplicity of this feeling runs through both artists' practices: desire as a motivational and life force for Bays and as an aspiration for value and authenticity for Kazaroff. While desire is usually associated with fantasies beyond ordinary life, the artists are interested in how it's manifested in commonplace objects and the everyday.
The anthropomorphic objects in Hannah Bays' recent paintings create a metaphor for human experience. A sentient lamp observing its surroundings and contemplating its body, a fire aware of its slow burn, fence posts nailed together in a community - these all speak of human conditions and yearnings. 
Ana Kazaroff has a different take on desire: her works are objects of desire in themselves. It is hard to believe that the marble and granite surfaces of Kazaroff's sculptures and furniture are, in fact, a visual trick. The artist is interested in the status of materials, questioning the idea of authenticity. By painting her sculptures like other materials, Kazaroff reveals that things aren't always what they seem. The artist likes this unexpected effect of the fake, which she achieves by using wood, a commonplace material that is easily overlooked. 
About the artists
Ana Kazaroff was born in Argentina and lives in London. She makes sculptural paintings and salami architecture for installations where she explores ideas of stereotypes, authenticity and cultural mistranslations. She is currently specialising in marbling as part of a Decorative Surfaces Fellowship at City & Guilds of London Art School, where she also graduated from an MA in Fine Art. Her work was recently exhibited at Deptford X, b.Dewitt Gallery and Eastside Projects.
Hannah Bays is a London-based painter and printmaker who graduated from the Royal Academy Schools in 2015. Recent exhibitions include The End, Chalton Gallery, London, 2020; Modern Love Vol. 4, Mexico City, 2020; The People's Mandate, Metro Auditorio, Mexico City, 2020; Where we are, Mercer's Hall, London, 2020. Hannah has completed a number of residencies, most recently at the Dover Arts Club Drawing Room in London. She has works in a number of collections including Jerwood and Hiscox.