Gallery
Address
Belvedere Rd
London
SE1 8XX
United Kingdom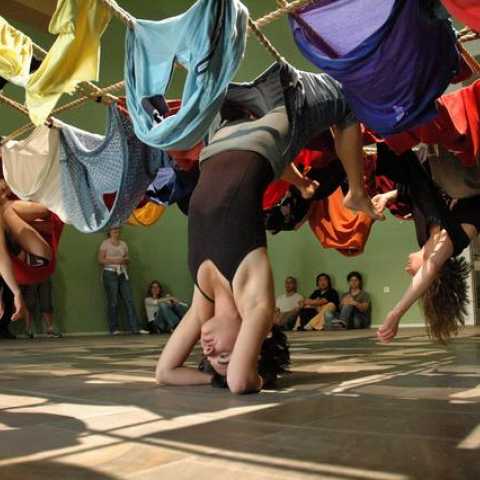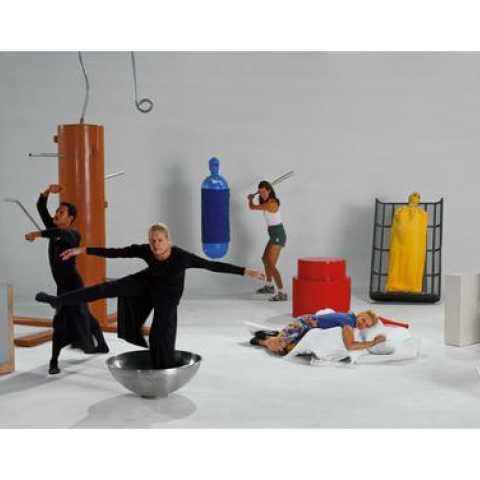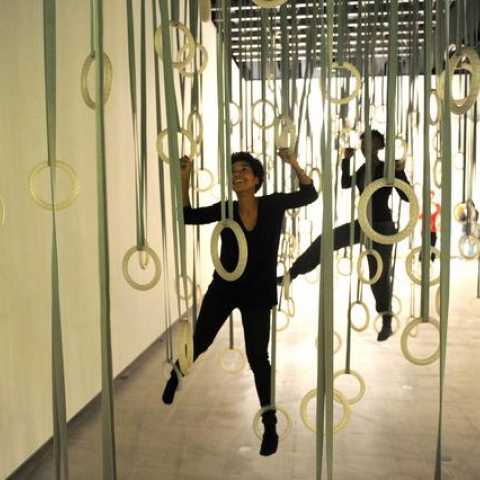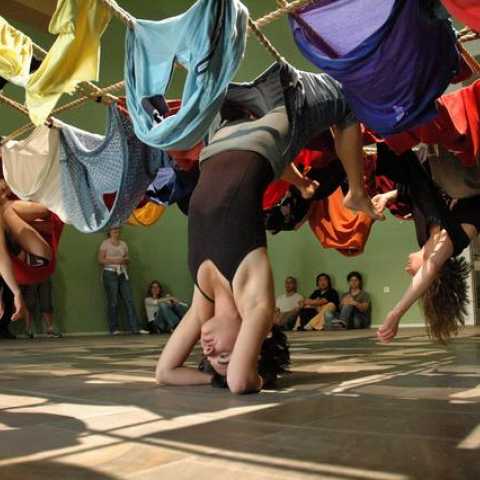 The Hayward Gallery presents seminal works and new commissions by leading artists, exploring the historical and current relationship between visual arts, dance and performance.
The exhibition focuses on visual artists and choreographers from the last 50 years who create sculptures and installations that directly affect the movements of visitors, turning spectators into active participants - and sometimes even dancers.
The exhibition is accompanied by a series of performances at Southbank Centre by acclaimed choreographers including Trisha Brown and Rosemary Butcher, and 140 artists are represented in the exhibition's digital archive.
The exhibition takes as its starting point the Judson Church Theater and Allan Kaprow's Happenings in 1960s New York, which blurred the boundaries between art and life. Curated by Stephanie Rosenthal,
Chief Curator, Hayward Gallery, the exhibition explores how everyday movements have been a driving force in the development of both contemporary art and dance since the 1960s. It examines how visual artists in the 1960s and 1970s used choreography as a means to encourage audiences to experience art with their whole body, whilst increasingly over the last two decades artists have used dance and performance to explore how everyday behaviour is choreographed and manipulated.
The exhibition brings together a series of sculptural works and installations, some of which can be activated by visitors. Under the direction of choreographer Xavier Le Roy and Mårten Spångberg a group of resident dancers, alumni of Trinity Laban Conservatoire of Dance and Music, initiate encounters with the visitors to trigger conversations and open up discussions. They 'activate' certain works in the exhibition and perform actual choreographies created for Mike Kelley's Test Room (1999) and Simone Forti's Huddle and Hangers (both 1961).
A separate group of dancers'activate' sculptural pieces by Franz Erhard Walther, Tania Bruguera's installation Untitled (Kassel) (2002) and a new commission by Pablo Bronstein. Every Saturday from 12pm to 4pm, ten dancers perform Yvonne Rainer's Trio A (1966) in the gallery.
Stephanie Rosenthal, Curator of Move: Choreographing You, says: 'I believe that this will be a totally new approach to experiencing the crucial and inspiring relationship between art and dance. I hope that the exhibition will give people a new awareness of their own bodies in space and how they can interact with the environment around them."
Among the early works from the 1970s included in the show are Bruce Nauman's Green Light Corridor (1970) and reconstructions of Lygia Clark's seminal installation The House is the Body (1968), Trisha Brown's sculpture The Stream (1970) and two sculptures from Robert Morris' bodyspacemotionthings (1971).
The exhibition includes the UK premiere of Isaac Julien's TEN THOUSAND WAVES (2010) a video work shot on location in China, which explores the movement of people across countries and continents and choreographs the visitor through a complex installation of nine screens in the gallery, and William Forsythe's The Fact of Matter (2009), described by Forsythe as a 'choreographic object' featuring 200 gymnast rings suspended at varying heights from the gallery's ceiling, which test the visitors' physical strength and mental agility as they try to cross the room without touching the floor. A video installation by Forsythe, City of Abstracts (2000) will be visible after dark outside the Royal Festival Hall from 13 Oct to 30 November.
Mike Kelley's Adaption Test Room Containing Multiple Stimuli Known to Elicit Curiosity and Manipulatory Responses (1999/2010) presents a kind of a playroom, where oversized objects are meant to be touch and interacted with.
During the exhibition dancers will animate the installation performing choreography by Anita Pace. Christian Jankowski's Rooftop Routine (2008) is a playful invitation to visitors to hula hoop in the gallery and on the outside sculpture terrace, recalls Trisha Brown's Roof Piece from 1973.
New commissions include a 3D film made in collaboration with choreographer Wayne McGregor and digital artists The OpenEnded Group. The film which was shot and is presented in Hayward Gallery stairwell, presents floating imagery that traces McGregor's movements. And an installation by Pablo Bronstein featuring a Triumphal Arch which transforms the actions and demeanour of the
solo performer as they walk through it, and Walk the Chair by La Ribot, an instruction to visitors to pick up a chair and take it somewhere else in the gallery.
At points throughout the exhibition visitors can pause to explore a touch-screen digital archive designed by Unit9, which brings together 13 photographs and 147 films of some of the most important performance works from the last 50 years. The archive will enable visitors to watch well known works and rarely seen performances by 140 artists and choreographers.
The archive has been co-curated by André Lepecki, Professor of Performance Studies at New York University. The exhibition has been designed by Amanda Levete Architects.
Inspired by the photographic motion studies of the human body of Etienne-Jules Marey and Eadweard Muybridge, AL_A have created a collection of spatial dividers all made from a single material, Dupont Tyvek, into a sequence of folded oscillations. The rise and fall of these fabric ribbons naturally form partitions and different spaces in which to contemplate the works. They also choreograph the movement of the visitor through the series of installations. The structure and bespoke detailing of the paper-like waves was developed in close collaboration with fabricators Kite Related Design.