Gallery
Address
King's Road
London
SW3 4SQ
United Kingdom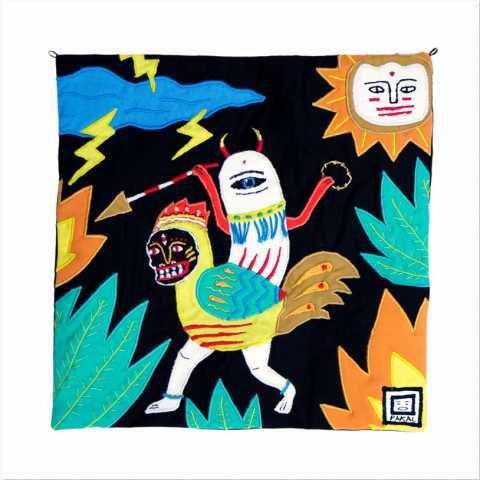 The Missing Museum: A Solo Exhibition by Pakal
Curated By Olly Walker and in association with Alessia De Pasquale
In a contemporary world of fake facts and believable fiction, the position
of the museum has shifted. Museums used to be repositories of colonised objects asserting a prevailing institutional narrative. Now they have become sites of questioning and contemplation.
Within the Missing Museum, these ideas of fact and fiction intertwine. A presentation of previously unseen art and artefacts provides an insight into the culture of the Laka tribe. These are the remnants of a nomadic people who believed in creativity as a path to transformation and reinvention. Viewers are led to question the authority and authenticity of what they see before them and relate it to their own lives.
The gure of the artist Pakal is a mystery. The artist deliberately chooses not to reveal their gender, nationality or identity to detach the self from the artwork. The works communicate directly with the audience free from the labels or boundaries that are usually associated with who the artist is. The vivid colours and gurative elements are inspired by the Far East and the indigenous art of Central America. There are spiritual references, symbolic representations and imaginative flourishes to engage and reward the viewer.
SAATCHI GALLERY The Prints & Originals Gallery
Duke of York's HQ, King's Rd, Chelsea, London SW3 4RY, UK