Gallery
Address
30 Davies Street
Mayfair
London
W1K 4NB
United Kingdom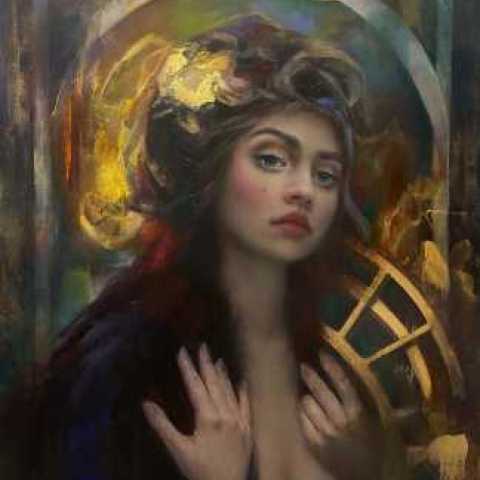 JD Malat Gallery is pleased to present The Eternal Human Condition, a solo exhibition  by Spanish artist Marina Gonzalez, on view from 4 July until 16 July 2022. Gonzalez's works explore the infinite plethora of human emotions, creating a visual dialogue between abstract and classic figurative painting. The Eternal Human Condition is based on the Medieval lyrical poetry collection 'Carmina Burana.' Satirical, mockery and love lyrics inspired Gonzalez to create visual equivalents of the poems.
Marina Gonzalez (1986), born in Seville, Spain, and currently based in London, develops her painterly technique in creating a unique visual language which translates complicated emotions and feelings. Having trained in classical Baroque painting at the University of Seville, Gonzalez works mainly with oil paint. During her time in Brussels, the artist explored different painterly techniques, as well as performance art, installation, and sculpture. After focusing on abstract expressionism for a period of time, Gonzalez created a new painterly dialogue between abstract expressionist and traditional figurative techniques. Her practice expanded into using different materials on the canvas such as gold dust, spray paint, gold leaf, oil pastel, and oil paint.
The Eternal Human Condition presents twelve new paintings, each one inspired by a poem from the 'Carmina Burana.' Gonzalez aims to showcase the eternity of raw human emotion by drawing parallels with the Medieval texts, which are still relevant today. The themes explored in the lyrics, satirical morale and mockery, love poems and liturgical dramas, are very contemporaneous. Gonzalez uses the rich descriptions of happiness, joy, fear, guilt, nostalgia, envy, sexual desire, sadness, and hope in order to delve further in current problems. Sometimes controversial, the poems which inspired The Eternal Human Condition give a backstory for each canvas, while still leaving enough space for personal interpretation. Gonzalez says "I find it fascinating how these descriptions were written in medieval times, as some of them have an enormous similitude to the stories we live in nowadays."
The gold elements used in Gonzalez's work emphasize the illumination of her character's faces, unveiling a multilayered color palette.  The abstract pieces resemble explosions of emotions, which are translated by the use of bright and vivid colors, referring to the complicated inner world of human nature. Gonzalez's fascination with discovering new visual dialogues by employing both abstract and traditional figurative techniques on the canvas make the paintings in The Eternal Human Condition an intriguing invitation for looking beyond what's before our eyes. 
Marina Gonzalez holds a Master's Degree in Fine Arts from the University of Seville, Spain, followed by a one-year academic grant from Saint-Lukas Art University in Brussels, Belgium. Gonzalez's work was exhibited as part of the Isolation Mastered group exhibition at JD Malat Gallery in 2020, where she won first prize. Gonzalez has participated in numerous solo and group exhibitions in Spain, Brussel, and London.
For more information, images, and comment, please contact: [email protected]
JD Malat Gallery
30 Davies St, Mayfair
London, W1K 4NB
Opening hours:
Monday – Friday: 10am – 6pm
Saturday: 12pm – 6pm