Gallery
Address
110 Foundling Court (Entrance 3), Marchmont Street
London
WC1N 1AN
United Kingdom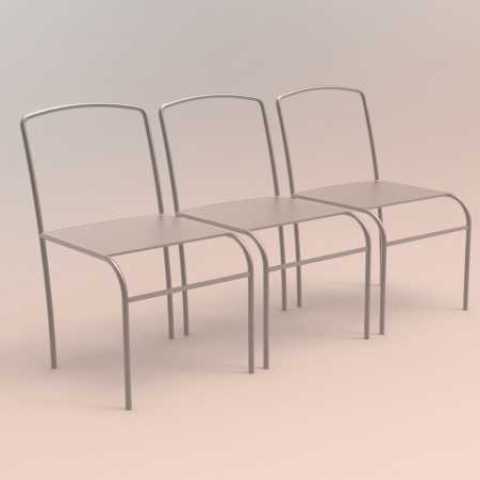 Architects often design chairs. Designing a chair can be likened to designing a larger structure - albeit on a smaller scale. To Smolarska, this suggests that the body and its relation to the chair can be viewed as a part of a larger pattern: a microcosm through which to perceive our relationship to the built environment.
Smolarska's practice is preoccupied with repetition and multiplicity, and uses these devices to evoke the uncanny and enable an event. The works in this exhibition take this strategy forward in a series of steel sculptures inspired by chair designs from the 1990s such as the MSc chair by Geoffrey Hollington (1994) and Aprile by Piero Lissoni (1996). Both are takes on 1950/60s school chair design. Paring down their aesthetic she conveys their function in the most rational way. En-masse they unsettle the context of the office/exhibition space they inhabit. Alongside these, a series of corresponding photographs are displayed of the artist sitting in other people's chairs. These empathetic, performative acts break the coldness of steel and allow various characters to emerge - the Lounge Lover, the Faker, the Ikea Expert … Through this combination of engagements, Smolarska draws us closer to an understanding of how we exist in architecture.
An artist conversation and al desco dinner party will be held on Sat 10 Dec, 6pm. 
A linked RCA Walkative event will take place Sun 18 Dec. 
Paula Smolarska (b.1983, Poland) is a London-based artist working across sculpture and installation. Smolarska's practice is concerned with the intersection of architecture and social structures and the body's potential to support, impose and adapt to a constructed habitat. Smolarska is interested in the structures that we operate ideologically and physically within; their capacity to inspire and reassure, as well as restrict. The inevitable condition of bodily immersion that architecture entails creates a new phenomenological situation that she frequently explores through the lens of Modernist utopian residential housing. 
Recent exhibitions include Dialogues on the Threshold, The Crypt Gallery (2016), Other and RCA at ECA with Royal College of Art (2016), Guerrilla Sculpture Park, Art Licks Weekend (2015), Florence Trust Residency (2014). Paula is currently in her second year of MA Sculpture at Royal College of Art. She co-runs the Walkative Society at RCA, which focuses on exploring the urban environment through debate and city wanders. www.paulasmolarska.com