Gallery
Address
50 Resolution Way
London
SE8 4AL
United Kingdom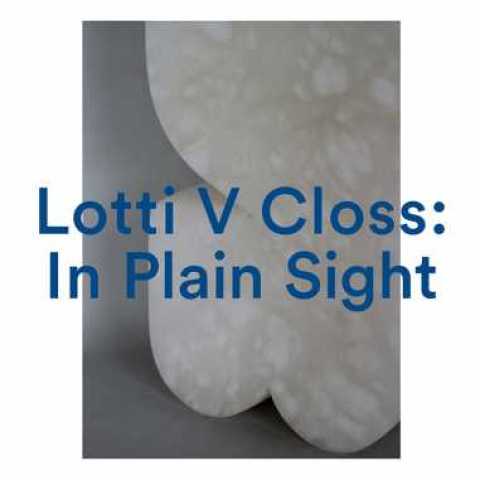 Castor are pleased to present In Plain Sight, the debut London solo exhibition by Nottingham based artist Lotti V Closs.
Curves, steps, slots, and a balance between organic and geometric lines work as a type of vocabulary. Suggestive and awkward, bulky attempting delicate, standing stones ignore, reach or recline between one another, competing for space and attention. Closs' works sit between possible maquettes for monumental public sculpture and fetishized interior objects. 
Closs' limited material choice in this body of work focuses on the unique and corporeal qualities inherent in stone. Boulders chosen to amplify natural movement, and blocks are cut sharply to create graphic contours augmenting a sense of character. A playful, theatrical approach is continued from previous works, using intermingling components and elements of narrative open to be built upon by the viewer.
In Plain Sight condenses an array of influences, and is the first exhibition of new work following participation in the Las Pozas Visiting School 2016 in Mexico with the Architectural Association. Spending time exploring Mexico City's culture, art and architecture and surrounding historical sites, the school culminated in a concrete-making workshop in the Surrealist sculpture garden Las Pozas in Xilitla. Las Pozas ('The Pools") was the creation of English born Aristocrat and Patron of the Surrealists, Edward James and was developed and built between 1949 and 1984. 
For Closs, the concrete garden of Las Pozas (which had been a destination for the artist since studying her MFA at the art school founded by James in West Sussex), reflects a fundamental essence of joy in the ridiculous, and scrambled, poetic visual information. The now ageing structures, though alien and angular, seemingly grow within the rampant jungle greenery, and the garden itself represents the impossible whims and fantasies of a situation that could not be reproduced today.
During the time spent in Mexico city, amongst sampling the abundance of ancient history, Closs also witnessed significant modernist monuments Ruta la Armistead, created for the 1968 Olympics, and the outdoor sculpture garden Espacio Escultórico (1979) in UNAM's (Universidad Nacional Autónama de México) vast grounds. Both sites sit within a bed of ancient petrified lava and undergrowth, with the ever-expanding cityscape growing around past and beyond the originally uncrowded sites.  
Working from a series of minimal sketches made on site and in the studio, imagined objects evoke alphabet characters or game pieces, potently stylized décor, and implied visual metaphor. Closs' intuitive and material sensed approach to making allows forms to appear and evolve organically, connecting with the details of line and surface, character and the composition of sculptural parts. In the studio, each form takes turns in a constant editing, altering and extending process to influence each other's and the group direction, finally choreographed into the public space itself and emanating their tone to the environment in which they are seen. 
The substantiality of the materials echoes both the modern and ancient monumental influences whilst scale and form step into the domestic realm. Connotations of the masked or coded, In Plain Sight reflects back an imagined visual language that emerges through a saturation of potent visual and environmental information. 
Private View: Friday 26 May 6 - 9pm
Open Friday & Saturday 12 - 6pm and by appointment