Gallery
Address
Crate
1 Bilton Square
Margate
CT9 1EE
United Kingdom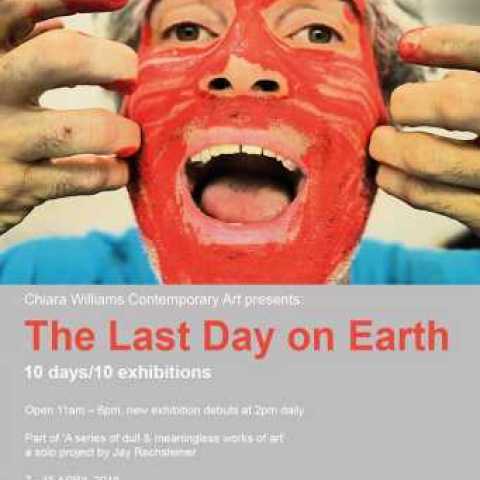 THE LAST DAY ON EARTH
10 DAYS/10 EXHIBITIONS

7 - 15 APRIL 2018,
Preview: Friday 6 April 6pm - 9pm
Open daily 11am - 7pm
Crate Project Space, 1 Bilton Square, Margate, CT9 1EE
presented by Chiara Williams Contemporary Art.
http://www.chiarawilliams.com/the-last-day-on-earth.html
 
The Last Day on Earth is an experimental work-in-progress exhibition that continuously alters/transmutes over the course of 10 days culminating in one new instalment per day.
As Crate Project Space is not a gallery as such but rather an environment to undertake projects as the name suggests, Rechsteiner is going to use it as an exhibition studio-lab where he will be working within a clearly defined framework in terms of theme and materials. The experimentation/research concludes with a new exhibition instalment daily at 2pm. Visitors are welcome to come along during the opening times at any time. The results will be published online and/or as a live stream.
The project will officially be launched with a preview party of the first instalment on Friday 6 April 6pm – 9pm.
Background
The Last Day on Earth explores the challenges, dangers & impacts of the continuous digitalisation that is radically transforming the way we live & communicate with each other. The continuing efforts to merge the analogue with the digital world & the eventual digital dominance is one of the most precarious & dangerous events in human history. The rise of smart objects able to interact with other smart objects & learn from each other through machine learning (AI) is not science fiction but a scary reality. Companies & governments invest huge sums of money in this development. The Internet of Things (IoT) has already infiltrated daily basic activities, & for some reason we all seem exhilarated & excited by it.

The project researches the correlation between the technological & the global development in life style, politics, health & migration. New concepts of living (digital nomads, remote work etc.) seem to democratize the world whereas the spread of information & fake news have an immense dictatorial impact on the behaviour of people.

The exhibitions aim to get the audience immersed in a conceptual & visually compelling presentation of four interlinked artworks. Rechsteiner is interested in the duration the works will be able to engage the audience and hold their interest; in the age of super-fast information consumption, this is a very challenging experiment.
 
About Jay Rechsteiner
Rechsteiner is a story-teller, whose process-based work sits at the intersection of different practices. Varied objects, found materials, detritus, video & audio footage, are all painstakingly collected and catalogued during his research and travels. These in turn are woven into stories, stories that are often so deeply embedded in the materials themselves so as to be invisible.

Rechsteiner has shown his work internationally (Japan, USA, UK, Switzerland, Italy, Portugal, France) in galleries and museums such as the Fukuoka Art Museum, Whitechapel Gallery, Tate Liverpool, the London Art Fair & the 53rd and 54th Venice Biennales. He was born in Basel, Switzerland in 1971, he lives and works in Margate, UK. www.jayrechsteiner.com