Gallery
Address
Maidstone Road
Paddock Wood
TN12 6LT
United Kingdom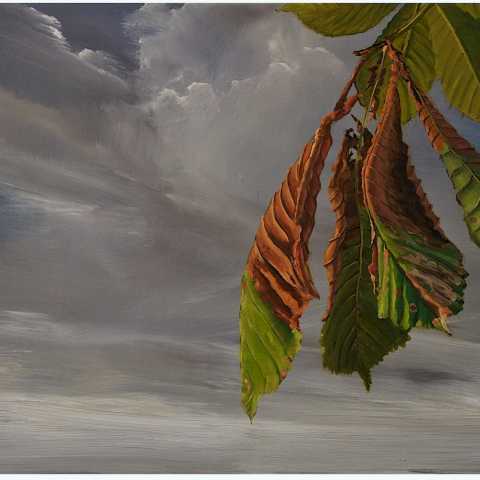 Julian Perry (b. 1960) has established a reputation for complex, finely crafted works which respond to the changing British landscape.
Perry's new body of work focuses on the crisis currently facing British trees. A 'perfect storm' of various pathogens and changing weather patterns threatens Britain's woodland, and has the potential to alter our landscape as dramatically as the arrival of Dutch Elm disease in the 1960s. . The works represent the continuation of Perry's remarkable research and body of work undertaken during his 30 years as an artist.
Perry's work is seductive in its drama, detail and skilled manipulation of paint. The works nostalgically echo the Ladybird book illustrations of the 1960s with their sense of affectionate illustration.
However these apparently benign paintings leave the viewer wondering about the greater environmental implications of this disease and decay in our landscape. Perry's attempt to make 'attractive' paintings of an arboreal crisis took inspiration from Henry Tonks' beautiful, but horrific, watercolour studies of soldiers disfigured during the First World War.
Perry's work is steeped in the British landscape tradition, and his affinity to British landscape has led him to be featured in BBC documentaries on the legacy of both John Constable and Paul Nash. Perry's work reflects his deep fascination and concern for contemporary environmental issues. His painting 'Shed 54 and Rhubarb' 2007 (Museum of London Collection) shows a doomed allotment shed on the site of London 2012 Olympics, yet is painted with a fidelity reminiscent of a Rogier van de Leyden altarpiece.
The appeal of 'When Yellow Leaves' reaches beyond the conventional gallery audience to attract visitors interested in conservation, botany, ecology and the politics of land use.
Julian Perry lives and works in East London and East Anglia. He has participated in exhibitions both in the UK and internationally, receiving several major awards including from Arts Council England and the British Council. Perry's works are held in many collections, public and private.
Curator of Mascalls Gallery, Rebecca Hone, says 'it is a great pleasure to bring these works to Mascalls Gallery. I am sure that our visitors will appreciate Perry's skilled use of oils as well as the commentary on our changing landscape which underlies these beautifully rendered images."
The exhibition continues until Saturday 12 December 2015.
Events
Saturday 17 October 2015 from 4pm
Artist Julian Perry will be discussing his skills and techniques in manipulating oil paint within the context of his concern for the British tree crisis.
Tickets £7 (£5 concessions)
Wednesday 21 October 2015 10am - 5pm
A visit to Bedgebury National Pinetum with a talk by dendrologist, Dan Luscombe, followed by a guided walk around the Pinetum.
Tickets £20 (minibus provided)
Wednesday 4 November 2015 12 - 4pm
Learn the basics of botanical drawing with Pearl Bostock, who is the Chairman of the Florilegium Society at Bedgebury National Pinetum.
Tickets £24 (materials inc)