Gallery
Address
12 Bury Street
St. James's
London
SW1Y 6AB
United Kingdom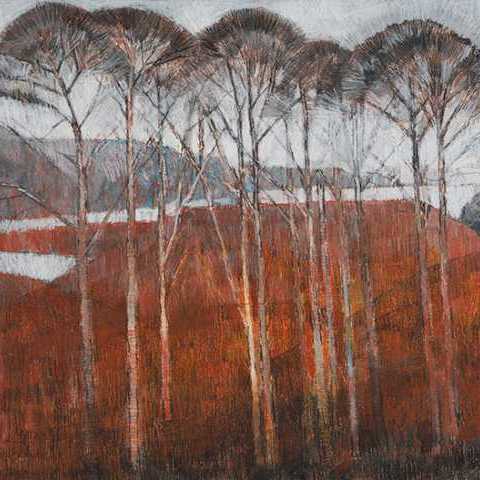 This major exhibition of new paintings by contemporary British artist Jake Attree has moved from Messum's London gallery to a virtual online platform at www.messums.com during lockdown. The online exhibition is accompanied by a fully illustrated printed catalogue (£15) with foreward by critic and author David Boyd Haycock, a short film with commentary from David Messum as he explores and discusses the paintings and a virtual gallery allowing visitors to experience the complete exhibition. Keep visiting www.messums.com to discover the new and innovative ways we continue to bring art 'From our Home to Yours'.
"In Jake Attree's art, I see Rembrandt, Van Gogh, and Auerbach synthesized and made into something new, both lyrical and melancholy. In these pictures experience, care, and devotion merge art and life—without any fanfare or sensation—in unfolding perceptions of what is possible, what is lost, what is dreamt of and what is regained. He is the Spencer Gore of our age."
Alexander Nemerov author of Fierce Poise: Helen Frankenthaler and 1950s New York (Penguin, 2021)
Many of the works in this new exhibition have advanced upon stylistic developments which were seen in Attree's earlier exhibitions with Messum's. The small blocks of colour that characterised many of the works from the 'Ancient City' series exhibited in 2013 have moved in an ever increasing abstract direction, hovering at times on the cusp of complete abstraction.
"Picture fuses with place, and place with picture, in a cyclical relationship that serves to  produce something entirely new and very personal."
David Boyd Haycock Author and Curator
Attree was born and grew up in York, and his first art teacher was John Langton, another northern painter fascinated by how light falls on buildings and landscapes. York is a majestic city with a long, extraordinary history – from the Roman metropolitan centre to the Viking port of Yorvik, to the great medieval walls and minster. Here is layer upon layer of history and those seams of history are like the layers in Attree's drawings and – in particular – his paintings. Thus recent works such as the 'Red Roofs, York from the Bar Walls' series are both a vision of York and a vision of history, a place that is at once both ancient and modern, here and everywhere.