Gallery
Address
14 Warren Street
London
W1T 5LJ
United Kingdom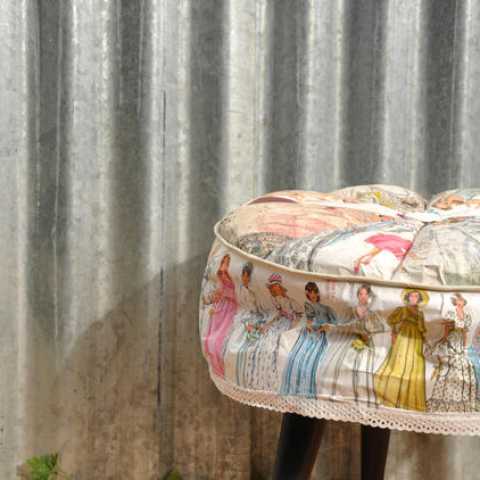 An exhibition by Paula Chambers      
7th - 26th November
Exhibition preview:
Thursday 7th November 6pm - 9pm
Furniture usually just lingers about, not taking up too much of our attention or emotional energy. But sometimes the opposite can be true. In the front rooms of working class Britain women made      shrines to modernity, a modern life free from the constraints of either an industrial or a domestic obligation. Here objects take on an almost sacred significance; nostalgia and the ambiguities of consumer culture on private display.
Poltergeist and pubescent girls move and rattle furniture in a playful yet sinister manner. The housewife of myth makes an ironic comeback; it's not so much the dusting as the duster that has meaning in this context. The domestic objects and household ornaments of our childhoods take on an emotional value that shape our notions of self; that construct significant personal identities.
In Domestic Pirate, artist Paula Chambers has cleverly subverted these domestic objects that haunt our retrogressive imagination. This is dysfunctional furniture, ambivalent ornamentation. Sculptural objects, both floor based and wall based seem to lurk or loiter in the gallery space, they have a whiff of discontented anthropomorphism. 'Happiness not Included" and 'Satisfaction not Included" are a pair of ironic footstools. Both sag as if resigned to their subservient function; easily overlooked, they hide subversive post feminist narrative. Carefully constructed from original vintage sewing patterns, each molded to resemble padded fabric, the original pattern drawings have been subtly altered, mascara smudged brides wipe away tears, the nightgowns of previous eras, all frills and high necklines, are held provocatively open to reveal in each an Amazonian breast.
'Bridie, 21" lines an entire wall of the gallery space. A series of individual yet amalgamous 3D photographic ornaments for the mantelpiece, these objects have been spoiled, the sheen of glamour lost beneath the glib scribbling's of pre-school children. Each bride a memento or perhaps a promise, lost now through time and vacant vandalism. 
Showspace is a roaming gallery that showcases the work of East Street Arts members from across the UK and abroad. It hosts a diverse range of events, exhibitions, performances and socials. Through these self-curated shows members have the freedom to create autonomous exhibitions for a new audience in a temporary gallery in London.