Gallery
Address
https://www.99projects.co.uk/
99 Chamberlayne Road, Kensal Rise
London
NW10 3ND
United Kingdom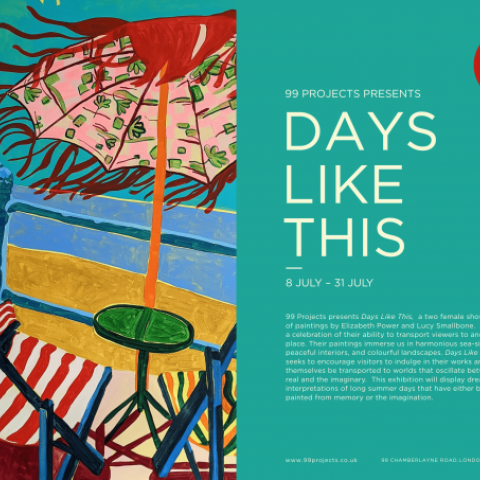 Days Like This is a two female show by painters Elizabeth Power and Lucy Smallbone and is a celebration of their ability to transport viewer
Elizabeth Power's and Lucy Smallbone's paintings immerse us in harmonious sea-side views, peaceful interiors, and colourful landscapes. Days Like This seeks to encourage visitors to indulge in their works and let themselves be transported to worlds that oscillate between the real and the imaginary. This exhibition will display dream-like interpretations of long summer days that have either been painted from memory or the imagination.
Taking inspiration from Henri Matisse, one of the most influential artists of the 20th century, painters Elizabeth Power and Lucy Smallbone are known for their use of vibrant colours and simple forms — similar to the French artist — as well as for their peaceful, summery subject matters.
'What I dream of is an art of balance, of purity and serenity, devoid of troubling or depressing subject matter … A soothing, calming influence on the mind, something like a good armchair which provides relaxation from physical fatigue.'
— Henri Matisse, 1908
The exhibition runs from Friday 8th to Sunday 31st of July at 99 Projects, 99 Chamberlayne Road, London, NW10 3ND.