Gallery
Address
99 Hoxton St
London
N1 6QL
United Kingdom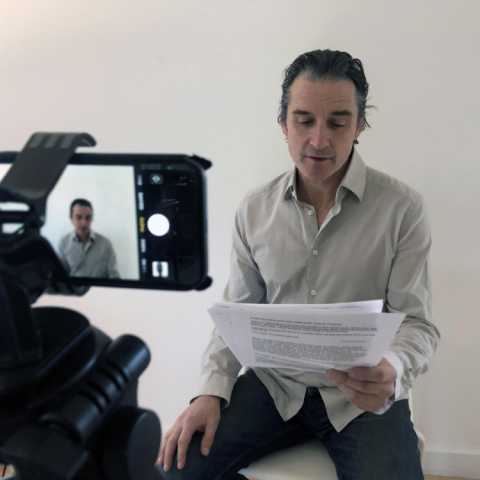 While the gallery is closed to the public, this exhibition will be visible from Hoxton Street 24/7.

PEER is delighted to present Crocodile Cradle, a new exhibition on three platforms: a filmed performance online, accessible via a QR code; a text collage on the gallery's glass façade; and a book, to be published this summer. For this collaborative project, artist Simon Moretti invited 51 artists including Fiona Banner, Tacita Dean, Lubaina Himid, Christian Marclay and Cerith Wyn Evans to supply a text that they have written or found.
The artists' texts have been brought to life with a reading by actor Alastair Mackenzie; a 38-minute-film of his one-take performance will be viewable on smartphones via a QR code, accessible from the gallery windows and online. A live performance and publication will follow later in the year.
"I have always been interested in the possibilities of different exhibition structures and to have a collaged text that can be exhibited, read or performed online or physically in a gallery. At this time while we are all dealing with social distancing or isolating in one way or another, in and out of lockdowns, I like the idea for all of us to be connected through a single work." – Simon Moretti
Artists, in order of appearance are: Liam Gillick | Lubaina Himid | Helen Cammock | Matilde Cerruti Quara | Nedko Solakov | Jimmie Durham | Tacita Dean | Andrea Bowers | Erica Baum | Liliana Moro | Giorgio Sadotti | Dan Perjovschi | Alejandro Cesarco | Stefan Brüggemann | Fiona Banner aka The Vanity Press | David Horvitz | John Smith | David Austen | Cally Spooner | Vedovamazzei | Sue Tompkins | Peter Liversidge | Pavel Büchler | Cerith Wyn Evans | Goshka Macuga | Amikam Toren | Ruth Wolf-Rehfeldt | Ian Whittlesea | Sylvie Fleury |Ugo Rondinone | Christian Marclay | Simon English | Carey Young | Mai-Thu Perret |Jimmy Robert | Marysia Lewandowska | Nicholas Alvis Vega | Linder | Koushna Navabi | Sophie Jung | Karl Holmqvist | John Armleder | Annie Ratti | Jason Dodge | Cesare Pietroiusti | Marcel van Eeden | Daniel Gustav Cramer | Paul Heber-Percy | Joan Jonas | Jirí Kovanda | Ruth Wolf-Rehfeldt | Jonathan Monk
Some of the artists have contributed original texts, while others have selected excerpts by writers and poets such as Daniel Defoe, Andrew Marvel, Samuel Coleridge, Emily Dickinson, John Cage and Christopher Isherwood.
About Simon Moretti
Simon Moretti (b.1974) lives and works in London. Select projects include The Enigma of the Hour: 100 Years of Psychoanalytic Thought, Freud Museum, London( 2019); Dadadandy Boutique, ARTPROJX SPACE, London (2008); Le Palais des Etoiles, Selfridges, London (2007); Space is the Place, Ritter Zamett London (2006); and EXPO 21: Strategies of Display, Angel Row Gallery, Nottingham and Mead Gallery, Coventry (2004). Select exhibitions include None of the Above, KanalCentre Pompidou, Brussels (2020); To Be Free is to Lose Sight of the Shore, Archaeology of the Final Decade, Dhaka Art Summit, Dhaka (2018); The Camera Exposed, works from the collection, Victoria and Albert Museum, London (2016); Revolt of the Sage, Blain Southern, London (2016); L'Intime, Le Collectioneur Derrier la Porte, La Maison Rouge, Paris (2011); The Art Parade, Deitch Projects, New York (2007); The Sleep of Ulro, Liverpool Biennial 06, Liverpool (2006); Thank You for the Music, Sprueth Magers, Munich/London (2005); From A to B and Back Again, Galerie Chez Valentin, Paris (2005); and None of the Above, Swiss Institute, New York (2004). Awards include the Selfridges Commission as part of Surreal Things in collaboration with the Victoria & Albert Museum, London (2007); the Fondazione Teseco commission, Pisa (2006); the Henry Moore Institute Award; the Art Council of England Artist Award (2002); and Tate Modern Turbine Hall commission (2000).
About Alastair Mackenzie
Alastair Mackenzie is a Scottish actor based in London and is a cofounder of Sigma Films. He has worked extensively in theatre, film and TV, as well as writing and producing. His credits include Unforgotten, Deep Water, Peterloo, Outlaw King, The Mentalist, Borgen, The Edge of Love, The Last Great Wilderness, Wolf Hall, Black Mirror, and Monarch of the Glen.