Gallery
Address
18 London Road
London
SE23 3HF
United Kingdom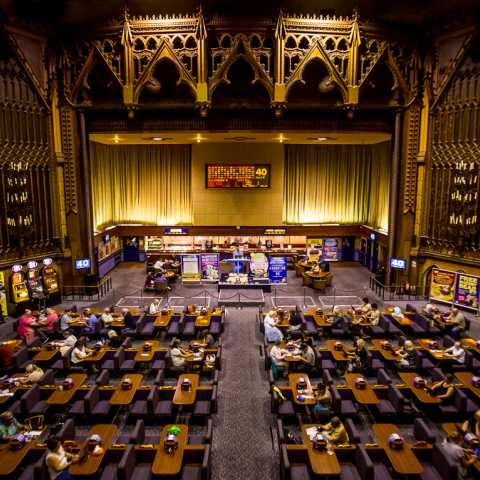 Henry/Bragg delve into the nuances, rituals, habits and practices of declining and appropriated working class culture through a process of documentary film, photography and social engagement, located in this case within the faded grandeur of old bingo halls.
B.I.N.G.O is a series of photographic works and a film installation of bingo players and the spaces they occupy. The work looks at the changing face of bingo, focussing on the use of old cinemas and theatres as bingo halls and their current demise. Henry/Bragg spent a year documenting these venues around England.
Akin to entering an alternative world, with its own rules and social conventions, Henry/Bragg's photographs show a decaying grandeur, places formerly dripping with opulence now degraded to housing rows of hard formica tables under harder florescent lighting. A melancholy remains, bingo having left its glory days behind and its regular customers declining. These grandiose buildings, which used to have queues around the block, now feel slightly haunted.
The traditional bingo game has been in decline for some time and these large venues have proved difficult to fill, fuelled by the smoking ban and the emergence of online bingo. The increasing demand for profitable business has forced the industry to squeeze more money from fewer punters: hand-held tablets are encouraged to enable the playing of multiple games and the bingo callers' traditional banter has been lost in favour of cramming in more games. The fun, social and positive aspects of the game have been decimated in the process.
On their journey Henry/Bragg found remnants of the original game and found valued social havens for some members of the community, often women, making friends, maintaining their mental agility and hopefully winning a bob or two.
These buildings, formerly places of entertainment serving the populace for so long, are often prominently placed on high streets up and down the country. The high street, the heartbeat of the community, is now at a critical point as its role and function are redefined as part of economic and cultural shifts. Henry/Bragg pay homage to these iconic spaces before they go through a second process of change and in doing so their work captures and preserves this process and the fragility of the communities they support.
The associated B.I.N.G.O event alludes to the glory days of bingo, complete with gold clad bingo caller, bespoke bingo cards, dabbers, glitter curtains, 'legs eleven' banter and traditional prizes such as meat and bingo bears. This time, however, prizes also include framed prints from the B.I.N.G.O series, memorabilia from a recently closed down bingo hall and other specially customised unique artworks.
Prizes sponsored by www.playingbingo.co.uk
Supported using public funding by the National Lottery through Arts Council England.
ABOUT THE ARTISTS
'From amateur talent shows at working men's clubs to mod reunions in provincial dancehalls, sharply focused and unsentimental, the work nonetheless possesses an almost nostalgic bittersweet quality, as if aware of both the transience of these moments, and the increasing fragility of many of the working-class subcultures that sustain them.'
Steven Bode, Film and Video Umbrella
Henry/Bragg is artists Julie Henry and Debbie Bragg. They highlight subject matters that mean a great deal to them, such as the erosion of working class culture in the age of neoliberalism and global consumerism. They capture parts of this culture before it completely passes or borrow liberally from it's signifiers in their representations of it, using a mix of documentary photography, film and social engagement. They take the familiar and displace it in order to present it back to the viewer as a mirror to themselves.
Henry/Bragg's first collaboration Going Down 1998, a film installation about football fandom, was shown at International Centre of Photography, New York and has recently been acquired by The Museum of Contemporary Photography, Chicago for their permanent collection. Their first solo exhibition was Talent Show at the Anthony Wilkinson Gallery in 2000. Dyed in the Wool was a solo show at the Millais Gallery 2005, and in a group show Rundlederwelten as part of the cultural festival for the World Cup 2006 at the Martin Gropius Bau museum Berlin. In 2011, their Blooming Britain project, a study of people who enter gardening competitions, toured as a large scale outdoor exhibition at gardens around the UK, and was shown in 2014 at the Chelsea Flower Show. The Surrey Hills, an audio-visual piece about a landfill site, toured worldwide in 2012/3 as part of the exhibition Wild New Territories; from London to the Teck Gallery Vancouver and then onto Berlin. In March 2014, they were invited by Film and Video Umbrella to show and talk about their work at the Media Space in the Science Museum London, in conjunction with the exhibition 'Only in England.'