Gallery
Address
Cross Lane
Kendal
LA9 5LB
United Kingdom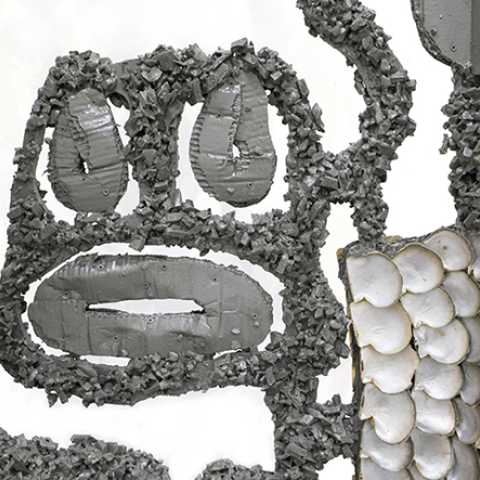 The ocean is a site of anxiety for it has no holes. To be open within it would be to choke.
You said that sea creatures are vulnerable from all sides, that only the softest get protection. They live with the gentle knowledge that it is those who do not perceive them as a threat that cherish them the most.
In this way, being precious keeps you still.
Push out a little toe into the salt or at least small-ly endure the thought that what shields is a delusion, built in the bureaucratic model of plugging the boat. As if a cork could placate the weak. The sea does not know or care for the ideology of leaks: it just rolls, to some invisible force like money or sensation.
That I am always moving, that is the punchline.
Cross Lane Projects is proud to present a solo exhibition of new work by Mark Tanner Sculpture Award 2018/19 winner Anna Reading.
Installed across a floor of vinyl collages, Anna Reading's The Pothole presents a series of new sculpture and performance works developed over the past year as the 16th recipient of the major UK award.
Combining layers of surplus commodity materials, including shredded foam, gravel, oyster shells, bitumen, chip forks and cardboard, Reading creates a highly tactile and fragmented environment. Her sculptures appear familiar and puzzling at once, existing between life form and architecture, ancient and futuristic and decay and regeneration.
This new body of work continues the artist's exploration into the absurd relationship between the organic and the synthetic. Reading's sculptural structures appear as relics from an unknown future. She combines materials that cling to the sculptures 'as if they've grown there without being cleaned away', in an attempt to consider 'what can grow uncontrollably out of moments of destruction and chaos'.
The work is installed across a digitally-collaged vinyl floor composed of Reading's photographs of the Scottish Isle of Staffa, layering its hexagonal black basalt columns and colonies of white limpets in a disorientating camouflage. The island, for Reading, is at once an ancient sculptural outcrop as well as a host for organic growth.
Traversing sculpture, moving image and performance, Reading's practice aims to foreground the illogical, the emotional and the sensory.  Performances take the form of interactions with objects, simultaneously responding to their affect while also projecting meaning. 
A limited edition publication entitled 'The Pothole' accompanies the exhibition and features writing by Reading, Hannah Regel (artist and writer based in London) and Carey Lifschultz (writer based in San Francisco). The texts are layered with images of Reading's highly textural sculptures and vibrant digital collages.
The MTSA is one of the most significant awards for emerging UK artists working in the field of sculpture. Offering £8,000 towards the making of new work, it rewards outstanding and innovative practice, with a particular interest in work that demonstrates a commitment to the process, or sensitivity to material.
The Pothole tours to Cross Lane Projects from Standpoint Gallery, London and will continue to Bury Art Museum & Sculpture Centre in Spring 2020.
Anna Reading (b. 1987, Newcastle Upon Tyne, UK) is a London based artist and a graduate of MFA Sculpture, Slade School of Fine Art (2017), where she received the Siva-Finestone Scholarship, and holds a BA (Hons) Fine Art, Central St Martins (2010).  Her work was included in Bloomberg New Contemporaries 2018. Recent exhibitions include Sugar Mountain, The Silver Building, London, Shell Shelter and Raven Ravine with Pallas Citroen, The Bomb Factory Art Foundation, London, Everything, Assembly Point, London. A Field Guide to Getting Lost, The Art Foundation, Athens. Cloud Concrete, Unit 1 Gallery | Workshop, London. POND, Kaitak Gallery, Hong Kong. Loop, Lubomirov / Angus Hughes, London and Object 77B, Laure Genillard, London.
Reading was selected from 260 applicants from across the UK by a panel comprising Clare Lilley, Director of Programme, Yorkshire Sculpture Park, Cathie Pilkington RA, Frances Richardson MTSA winner 2017-18, and Rebecca Scott, artist and Mark Tanner Trust.