Gallery
Address
Cross Lane
Kendal
LA9 5LB
United Kingdom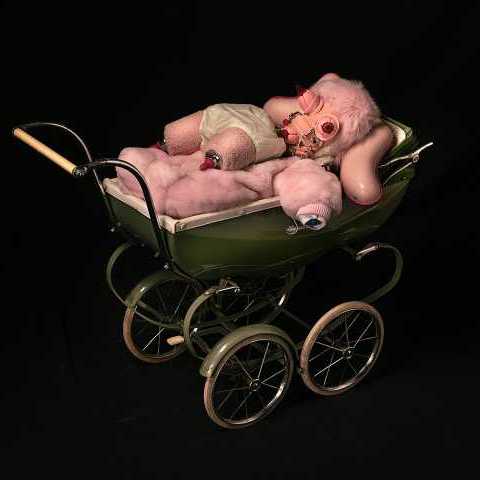 Cross Lane Projects, Kendal, is excited to announce it will reopen this Summer with an exhibition by Mark Woods.
After a challenging few months, the gallery is looking forward to welcoming back visitors and relaunching an ambitious programme of contemporary art in Kendal.
The gallery will reopen its doors with a solo exhibition by Mark Woods (b. 1961, Surrey) entitled 'Absorption'.  Launching on Friday 23 July, the exhibition features objects, vignettes & photographs of elaborate artefacts housed in a purposely designed environment that aims to enhance viewers' disorientation and surprise.
Visitors are invited to peer through small openings to view Wood's evocative work. Blurring the boundaries between fine art, fetish objects, and items from a cabinet of curiosities, Woods' art compels viewers to confront their inner feelings and desires.
Woods was recently selected as a highlight of London Art Fair: Edit 2021 by CEO & Editor in Chief of Artlyst, Paul Carter Robinson FRSA.
Curated by Vanya Balogh, 'Absorption' takes inspiration from the renowned 'International Surrealist Exhibition' held at Galérie Beaux-Arts, Paris, in 1938.  The exhibition featured leading surrealist artists including André Breton, Salvador Dalí, Max Ernst, Man Ray, Leonora Carrington, and challenged existing conventions of exhibitions viewing.
This ground breaking exhibition placed paintings and objects as elements within a surrealist environment. Visitors were encouraged to follow a dreamlike path almost entirely in darkness.
Joanna Moorhead described the effect in her 2017 book 'The Surreal Life of Leonora Carrington': "From there the visitors passed into the gallery, where they were informed that the lights had failed and that they would have to look at the exhibits using torches. With these in hand they continued their tour long a corridor made to resemble a Parisian Street, along which were arranged a row of mannequins."